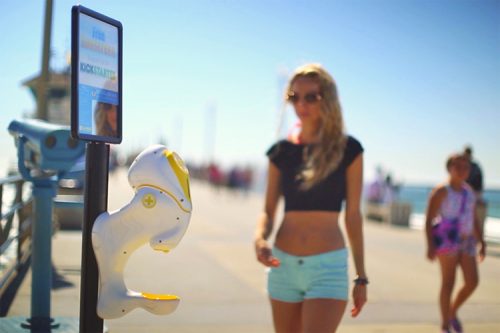 In Canada, there are over 80,000 cases of skin cancer diagnosed each year and it is one of the most common types of cancer; if you were to combine all of the new cases of breast, lung, prostate and colon cancer, there would still be more new cases of skin cancer!
These statistics should hopefully encourage all of us to follow more safe sun practises more vigilantly, but there are times when you're out longer in the day then you intended and the sun starts beating down and you can begin feeling your nose and forehead beginning to crisp. For those of us living in Toronto, you'll be excited to hear about the launch of a pilot project that aims to help those of us caught out in the middle of a park or the waterfront with no extra UV protection.
Through the funds of the Douglas Melanoma Fund and the Douglas Wright Foundation, Toronto will be adding 6 free sunscreen dispensers to five different locations across the city. They include:
Kew Gardens Park,
Sherbourne Common,
Harbour Square Park,
HTO Park and
Little Norway Park
If you're interested in learning more about the project, you can check out BeSunSafe.ca.
And for those of you not living near these free dispensers, or just generally looking to be more "Sun Safe", here's some tips from the Canadian Skin Cancer Foundation website:
keep out of the sun between 10am-4pm (or remain in the shade) or any time the UV Index is 3 or higher
wear loose-fitting, tightly woven and light weight clothing that covers exposed skin (e.g. legs and arms)
wear a wide-brim hat to protect head, face, neck and ears
stay in the shade
wear sunglasses with a UV protection of at least 400, block 99% of UVA and UVB
use sunscreen with an SPF of 30 or higher
apply sunscreen at least 20 minutes before going into the sun and reapply every 2-3 hours
also, reapply after swimming or perspiring
alternate application of bug sprays and sunscreen
reach under the edges of your clothing, the back of your neck, your ears and other places that are often missed or forgotten
Click here to learn more about the free sunscreen dispensers.