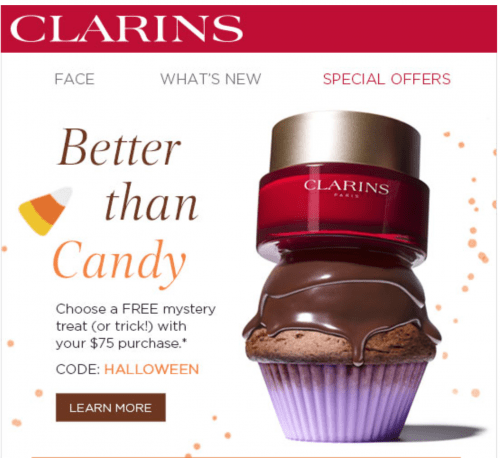 Clarins Canada has new offer available online right now! Head online to Clarins now and you could receive a free mystery treat with any purchase of $75 or more using the promo code HALLOWEEN at checkout! As the ad mentions, your gift is a complete mystery! When I made my purchase and went through checkout, I was asked to choose from 1 of 9 mystery gift options. Even going through the checkout process Clarins doesn't reveal what your gift is, so you'll probably have to wait until receiving your package to see what your free treat from Clarins will be.
In addition to this mystery offer, you can receive 3 free samples of your choice with any Clarins order! This is a great way to try out some Clarins favourites before spending the money on them! There's no promo code needed for this offer, as you'll automatically be asked to choose your samples in the cart.
Clarins mystery offer ends at 11:59pm ET October 31, 2015. Enter the promo code HALLOWEEN at checkout. There's a limit of 1 free gift per customer. Clarins Canada offers free shipping on orders over $75.
Click here to begin shopping online at Clarins Canada.