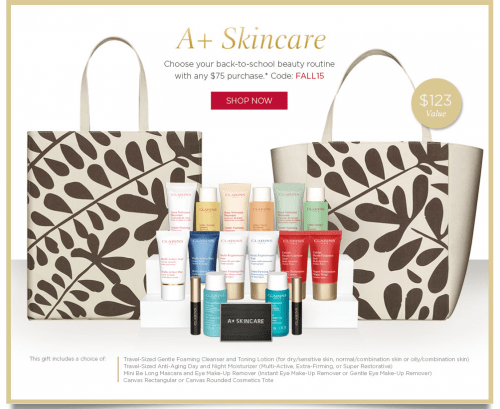 Clarins Canada has some great offers available online right now that will help you get ready to look your best when you head back to campus! Head online to Clarins now and you could receive a 7 piece gift set with any $75 purchase online using the promo code FALL15! This great gift set is valued at $123 and includes a great selection of Clarins favourites that will help keep your skin clean, moisturized and glowing this fall!
Your gift set includes:
Travel sized Gentle Foaming Cleanser.
Toning Lotion.
Travel sized Anti-aging Day.
Travel sized Anti-aging Night Moisturizer.
Mini Be Long Mascara.
Eye Makeup Remover.
Canvas rectangular or Canvas Rounded Cosmetics Tote.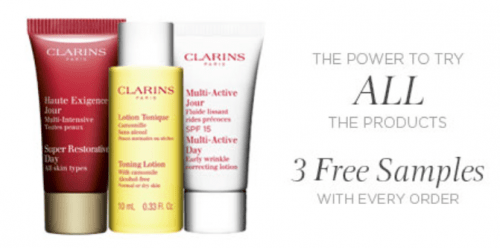 You can also enjoy the chance to try out new Clarins products, as you can receive 3 free samples with your order every day!
Samples you can choose at checkout include:
Shaping Facial Lift Total V contouring Serum 5ml
Gentle Foaming Cleanser with Tamarind 0.17 fl oz
Gentle Foaming Cleanser with Cottonseed 0.17 fl oz
Truly Matte Hydra-Matte Lotion 0.17 fl oz
Tonic Body Treatment Oil 0.07 fl oz
Toning Lotion With Iris 0.33 fl oz
Extra-Firming Neck Anti-Wrinkle Rejuvenating Cream 5 ml
Vital Light Serum 0.1 fl oz
"Anti Eau" Body Treatment Oil 2ml
ClarinsMen Revitalizing Gel 5 ml
Extra-Comfort Toning Lotion, Alcohol-Free 0.35 fl oz
Double Serum Sachet
Truly Matte Pure & Radiant Mask 0.17 fl
Toning Lotion With Camomile 0.35 fl oz
Truly Matte Pore Minimizing Serum 0.1 fl oz
One-Step Gentle Exfoliating Cleanser with Orange Extract 0.17 fl oz
Daily Energizer Cleansing Gel 0.17 fl oz
ClarinsMen Super Moisture Gel 0.17 fl oz
Gentle Peeling Exfoliating Cream with Microbeads 0.17 oz
Super Restorative Replenishing Comfort Mask 0.17 oz
The 7 piece gift set is available now until September 4, 2015 or while supplies last. Enter the code FALL15 at checkout. Clarins Canada offers free shipping on orders over $75, so if you choose to take advantage of this offer, you can get it shipped to you for free!