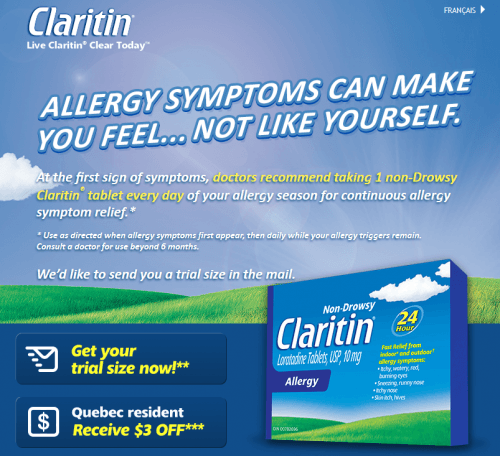 Spring has arrived, and for many of us that means allergy season has too. Claritin Canada wants to help relieve your allergy symptoms so that you can get outdoors and enjoy the outdoors without running at the first sign of plant life. Simply answer short 5 question survey and you could receive a free trial size pack of Claritin in the mail, or if you live in Quebec, you could get a coupon for $3 off! Claritin works fast to relieve symptoms from both indoor and outdoor allergies. Take it everyday during allergy season for continous relief from itchy, watery eyes, sneezing, skin itch, and hives.
This offer is valid until May 24, 2015 or while supplies last. Allow 4-6 weeks for delivery. The $3 off coupon for Quebec residents is valid on Claritin boxes of 20 or more tablets.
Click here to get your free box Claritin from Clairitin Canada today.