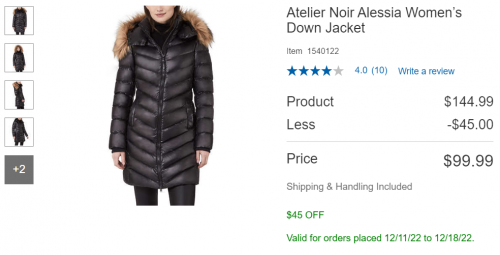 One of the Daily Holiday Deals that starts today from Costco.ca is this Atelier Noir Alessia Women's Down Jacket. Starting today it is just $99.99, after $45 off the regular price of $144.99, a savings of just a smidge over 30%. The sale price is valid until December the 18th.
Like most items from Costco.ca this down jacket ships for free, and is available for anyone to order, member or non-member. If this jacket is not to your liking, return it to any Costco warehouse for your refund. According to the estimated delivery date this item will arrive well before Christmas day.
This is a mid-length, chevron-quilted down coat, with a removable faux-fur trim, microfleece lined pockets that are snap secured, and back tabs and side pockets trimmed with recycled leather. A full range of sizes is available, from X-Small to XX-Large. You can find the measurements for each size through the link below to help you order the correct size.
This item does not qualify for the Spend & Get offer happening this weekend, but take a look around while shopping Costco.ca in case you are able to benefit from the $300 Digital Shop Card offer for spend $2,000 on qualifying items.
Click here to get this Atelier Noir Alessia Women's Down Jacket from Costco.ca.