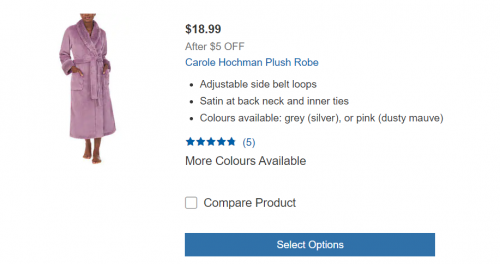 Costco.ca has offer on loungewear at the moment, saving you 20% when you purchase three or more items. This offer is valid on select items until November the 20th, 2022, online only.
There are a handful of items that require you to be signed in as a Costco member to purchase, but for the most part these are items that can be purchased without a Costco membership. Many items are also already on sale, so you are saving an additional 20% off after the sale price. Here are some of the items that are 20% off when you purchase three:
Disney Women's Fleece Lounge Hoodie $23.99
Disney Kid's Lounge $23.99
Robert Graham Men's Robs $29.99
Munki Munki Women's Hooded Onesie Pajama $29.99
Champion Women's Fleece Jogger $23.99
Carole Hochman Plush Robe $18.99 after $5 off
Majestic Women's 2-Piece Flannel Pyjama Set $34.99
Lazypants Women's Fleece Jogger $25.99
Bench Boy's Jogger $13.99 after $5 off
Eddie Bauer Men's Fleece Lined Robe $49.99
Splendid Women's 2-Piece Lounge Set $19.99 after $10 off
The Comfy Hooded Blanket $39.99
Jammin Jammies Kid's 2-Piece Family Sleep Set $17.99
If there is an item that is exclusively for Costco members, you will not be able to see the price as you would need to be signed in as a Costco member to view that information.
Click here to shop the 20% off loungewear sale at Costco.ca.