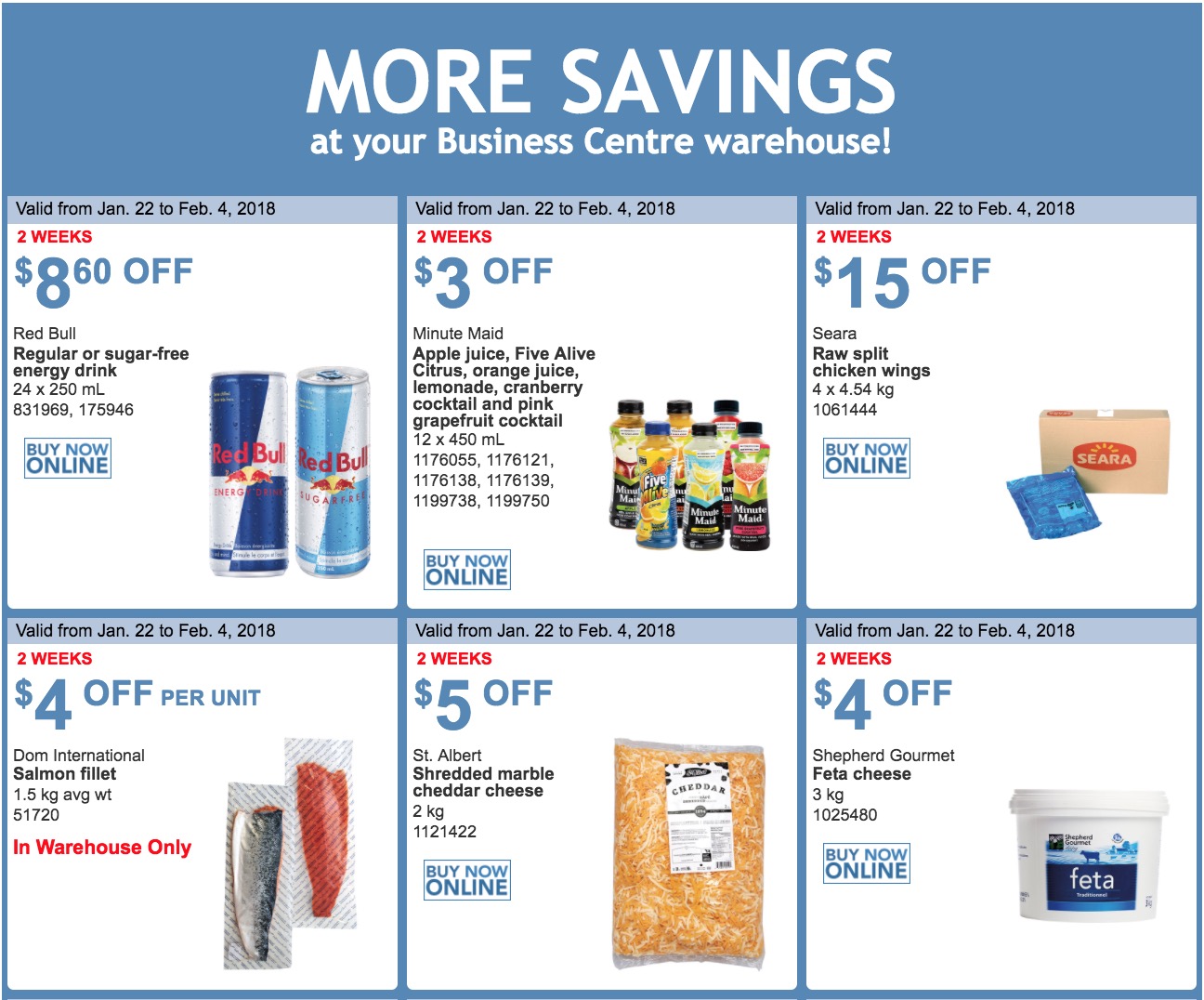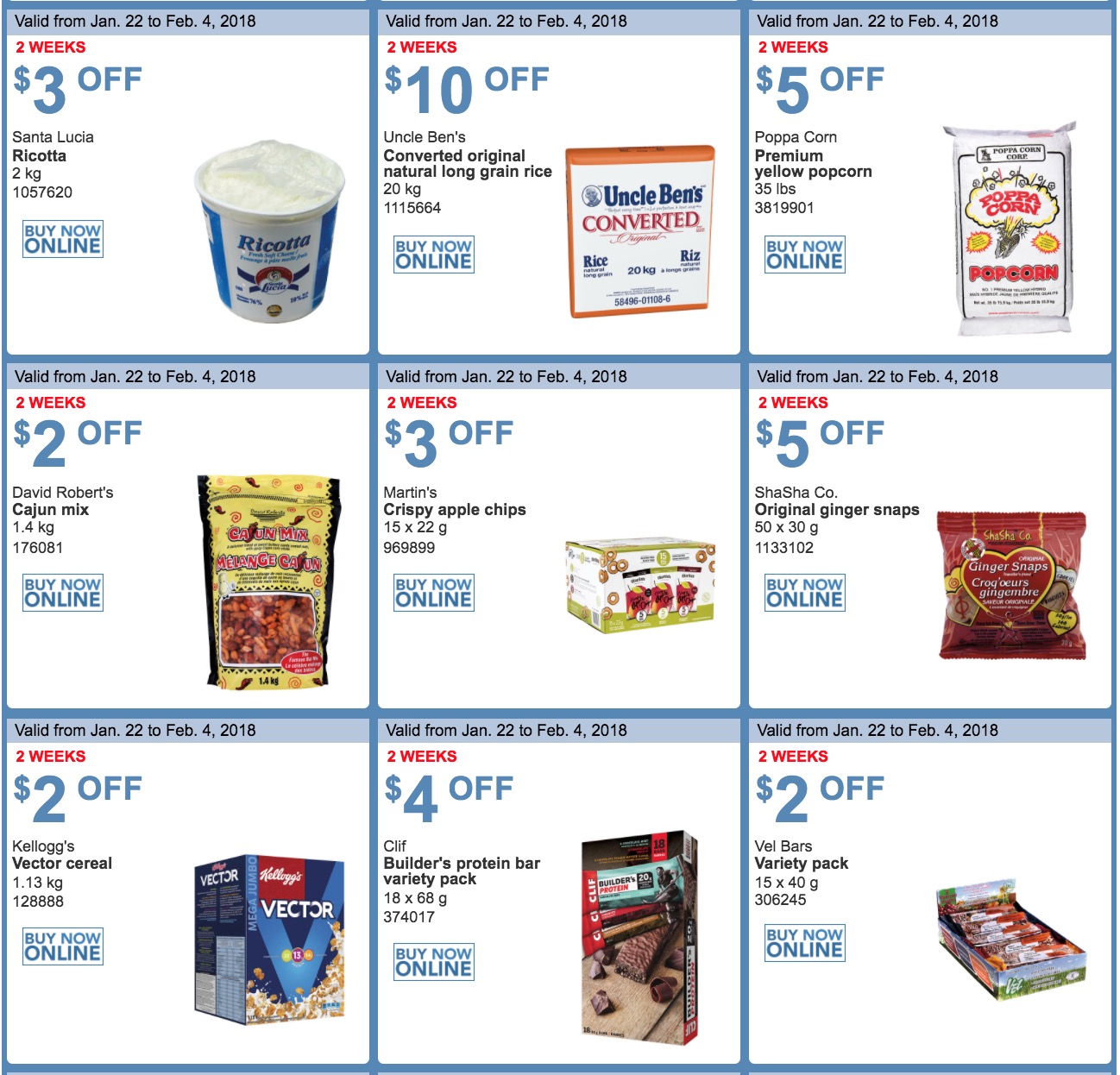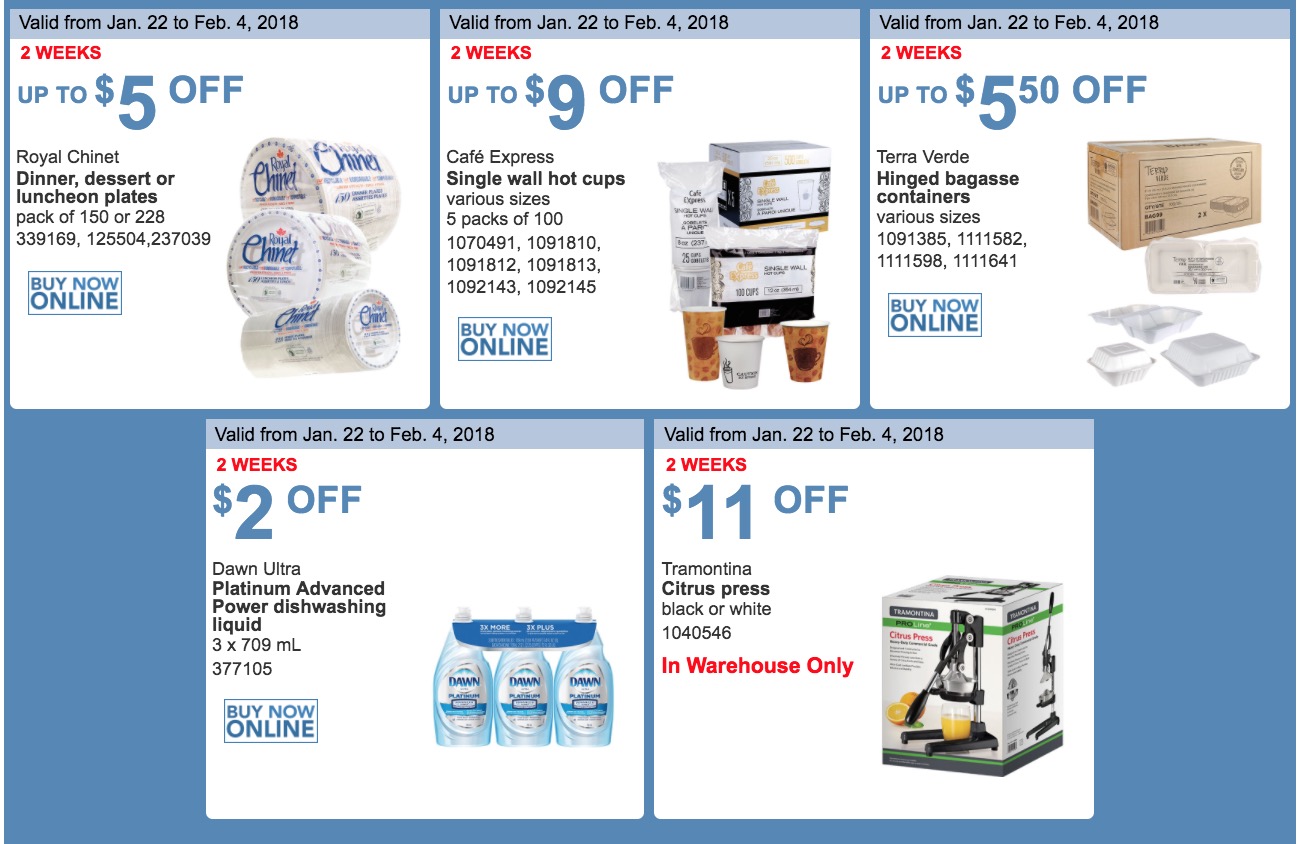 Costco Canada Business Centre (Scarborough, ON) has an instant savings flyer available now until February 4, 2018.
$8.60 OFF Red Bull Regular or sugar-free energy drink 24 x 250 mL
$3 OFF Minute Maid Apple juice, Five Alive Citrus, orange juice, lemonade, cranberry cocktail and pink grapefruit cocktail 12 x 450 mL
$15 OFF Seara Raw split chicken wings 4 x 4.54 kg
$4 OFF PER UNIT Dom International Salmon fillet 1.5 kg avg wt
$5 OFF St. Albert Shredded marble cheddar cheese 2 kg
$4 OFF Shepherd Gourmet Feta cheese 3 kg
$3 OFF Santa Lucia Ricotta 2 kg
$10 OFF Uncle Ben's Converted original natural long grain rice 20 kg
$5 OFF Poppa Corn Premium yellow popcorn 35 lbs
$2 OFF David Robert's Cajun mix 1.4 kg
$3 OFF Martin's Crispy apple chips 15 x 22 g
$5 OFF ShaSha Co. Original ginger snaps 50 x 30 g
$2 OFF Kellogg's Vector cereal 1.13 kg
$4 OFF Clif Builder's protein bar variety pack 18 x 68 g
$2 OFF Vel Bars Variety pack 15 x 40 g
UP TO $5 OFF Royal Chinet Dinner, dessert or luncheon plates pack of 150 or 228
UP TO $9 OFF Café Express Single wall hot cups various sizes 5 packs of 100
UP TO $5.50 OFF Terra Verde Hinged bagasse containers various sizes
$2 OFF Dawn Ultra Platinum Advanced Power dishwashing liquid 3 x 709 mL
$11 OFF Tramontina Citrus press black or white
Click here to view all Costco Canada instant weekly handouts fly­ers.