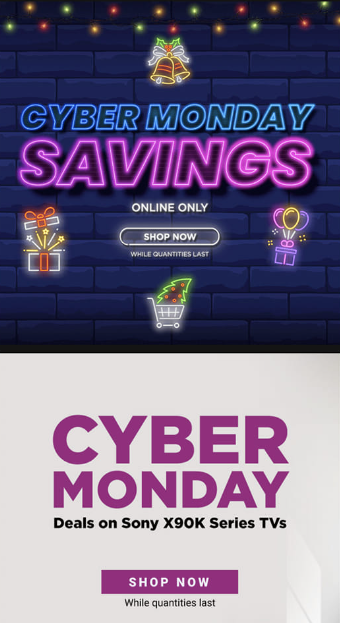 Shop Costco Canada online today for Cyber Monday savings! You do not have to be a Costco member to shop most of these items, and here are some of the deals that you can shop:
Tilley Men's Puffer Slipper $19.99 (after $5 off)
Bench Women's Crew Neck Sweater $19.99 (after $5 off)
Samsung 55″ 4K UHD QLED LCD TV $748 (limited time offer)
BC Clothing Men's Waffle Knit Shirt 2-pack $19.99 (after $5 off)
Puma Youth Fleece Pullover $14.99 (after $5 off)
Sony 65″ 4K UHD OLED TV $2,298 (limited time offer)
Anker Soundcore Rave Party Speaker $159.99 (after $30 off)
Samsung 43″ 4K UHD LED LCD TV $48=48 (limited time offer)
Sony 75″ 4K UHD LED LCD TV $1,998 (limited time offer)
KitchenAid Ultra Power Stand Mixer $289.99 (after $1oo off)
Apple AirPods with Charging Case $128.99 (after $18 off)
Cardmakers Essential Kit $74.99 (after $20 off)
Inspire Fitness FPC1 Full Power Cage $799.99 (after $300 off)
Adidas X-21FD Cross Trainer $999.99 (after $400 off)
Smart For Life Variety Low-Sugar Protein Bars $75.99 (after $19 off)
DeWalt Men's Cotton Blend Work Sock 6-Pack $10.99 (after $4 off)
Healthy Crunch Chocolate Banana Granola Bats 8-pack $35.99 (after $9 off)
There are lots more items to shop, and you will see that some items are Member Only items, so be sure to sign in for prices. Shipping is included in the price of most items, and returns can easily be made to any Costco warehouse.
Click here to shop the Costco Canada Cyber Monday sale.