Costco Canada Photo Centre has great deals  on services to help bring to life those memorable moments you've captured during the holidays this season. You can now upload your pictures in the comforts of your own home, and when it's ready, just drop by Costco, and pick up your purchase. You can be as creative as you want, and choose customize your item in the custom builder, or if you don't have the time, select one of their simple builders, and just upload the images you want.  You must be a Costco member in order to use the services offered by Costco's Photo Centre.
A list of services and products offered by Costco's Photo Centre include:
Prints starting at $0.10 each.
Calendars starting at $17.99 (Ready in 7-10 days)
Canvas prints starting at $34.99 (Ready in 7-10 days)
Photo Books starting at $29.99
Collage prints starting at $4.99 (Ready in 1-10 days)
Framed prints starting at $99.99 (Ready in 7-10 days)
Set of 50 greeting cards starting at $18.99 (Ready in 1-5 days)
Mobile cases starting at $21.99 (Ready in 7-10 days)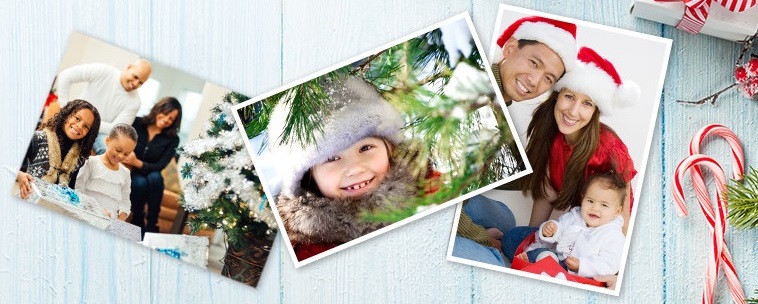 You can now get the standard 4″ x 6″ photo prints for only $0.10 each, there is no minimum or maximum amount of prints you must have in order to take advantage of this offer. Simply just upload the photo prints you want, choose whether you would like a glossy finish or matte finish, with border or no border, and what size and how many of each photo print you want. Here's a price list for different size options offered.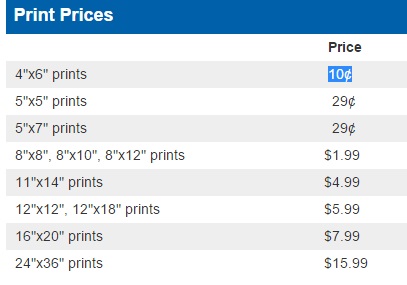 You can now get your image on mobile devices, such as your tablet or your smart phone, starting at only $21.99. This way your precious memories will go wherever you go. The following chart lists the available casing for devices and prices.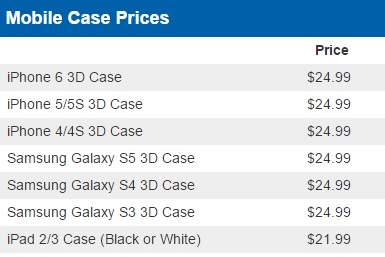 Delivery is not available, must be picked up from a Costco location.
Click here for Costco's Photo Centre's products and services; or