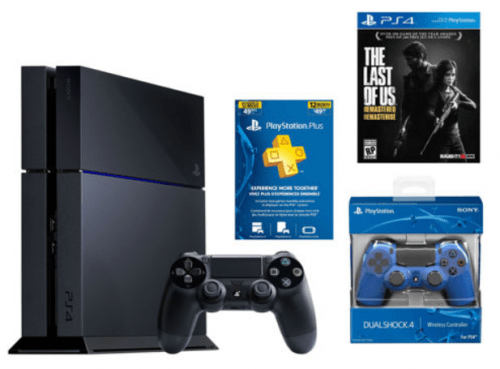 If you haven't upgraded to a PlayStation 4 yet, you'll love this amazing deal from Costco Canada! For a limited time only, you can pick up the PlayStation 4 Last of Us Bundle for just $519.99! This bundle not only comes with the PS4 console and Last of Us game download, but you'll get bonus items like a 2nd DualShock controller and a voucher for a 12 month PSN membership. When you add this bundle to your cart, you'll also receive a free PlayStation TV System!
Your $519.99 purchase will break down something like this:
500GB PlayStation 4 Console (valued at $449.97)

1x Dualshock 4 black controller
1x HDMI cable
1x Power cable
1 x Wired mono headset
1 x USB charging cable

Last of Us digital download voucher (valued at $19.99)
PSN 12 month subscription voucher (valued at $49.99)
Dual Shock 4 Wireless Controller in blue (valued at $74.99)
PlayStation TV System (valued at $78.99)
Comparing these prices with other retailers like Walmart and Best Buy, you're getting approximately $673.93 worth of products for just $519.99 with this Costco deal! Not only that, but consoles you buy at Costco are usually covered by their free lifetime warranty! Meaning that even if your hardware breaks down years later, you should be able to get a full refund on your item from Costco.
This deal is valid until August 9, 2015. Shipping and handling is included with your purchase.
Click here to buy the PS4 Last of Us bundle from Costco Canada.