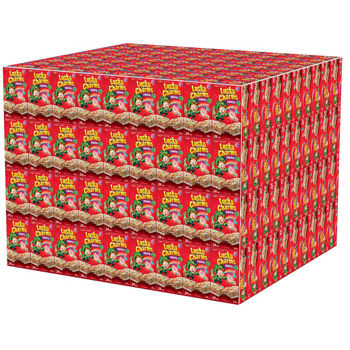 This is an interesting offer from Costco Canada, where you can literally buy an entire pallet of Lucky Charms Snack Bars for $720 off the original wholesale price of $2,999.99, now just $2,279.99. Since you will be receiving 360 units of these marshmallowy, 100 calorie, snack sized bars that means that each individual bar will work out to only costing you $0.26.
Of course this deal will not be for EVERYONE, as very few would be able to go through 8,640 bars (there are 24 bars per box) in a foreseeable amount of time. However, if you're having any kind of fundraiser, fun-run, or event that requires a large amount of snacks for a low cost then this deal may be one that you would be wise to invest in.
Costco will only be offering this on orders placed between January 2nd-January 18th, 2015 and they will also offer free-shipping since it has already been calculated into the price.
Click here to buy the Lucky Charms Snacks Bars pallet of 360 units from Costco Canada.