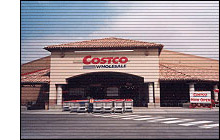 The old code expired. Here are the new codes.
Signup at costco.ca and use coupon code
GSWEB17E for a Gold Star Membership
EXEC6E for an Executive Membership
You'll get a $25 gift certificate which means that you end up paying $30 for a 1 year Costco membership.
This is for new membership only. However there is a trick to get this deal if you're currently a member. Say you're the primary member and your significant other is a secondary card holder. When your membership ends don't renew and have the significant other who was not the primary member apply as the primary member. Got it? 😉
Just for your information, a lot of people love Costco because it offers rebates, an inexpensive restaurant, bulk quantities (=savings) and 100% customer satisfaction (you can almost refund any item anytime and they will take it back).
Some notes from last time's comments:
This is legitimate.
Don't apply through a Costco store, get rejected (because you don't have a physical copy of the coupon) and come back complaining/whining. Just apply through Costco.ca for goodness sake 🙂
This is for Goldstar and Executive membership not business membership.
When you sign-up it says that you get a $25 in the right side of the box, underneath or beside the $0.01 deducted
The codes are:
GSWEB17E for a Gold Star Membership
EXEC6E for an Executive Membership
Click here if you're interested in reading people's comments or have questions
To signup go to Costco.ca