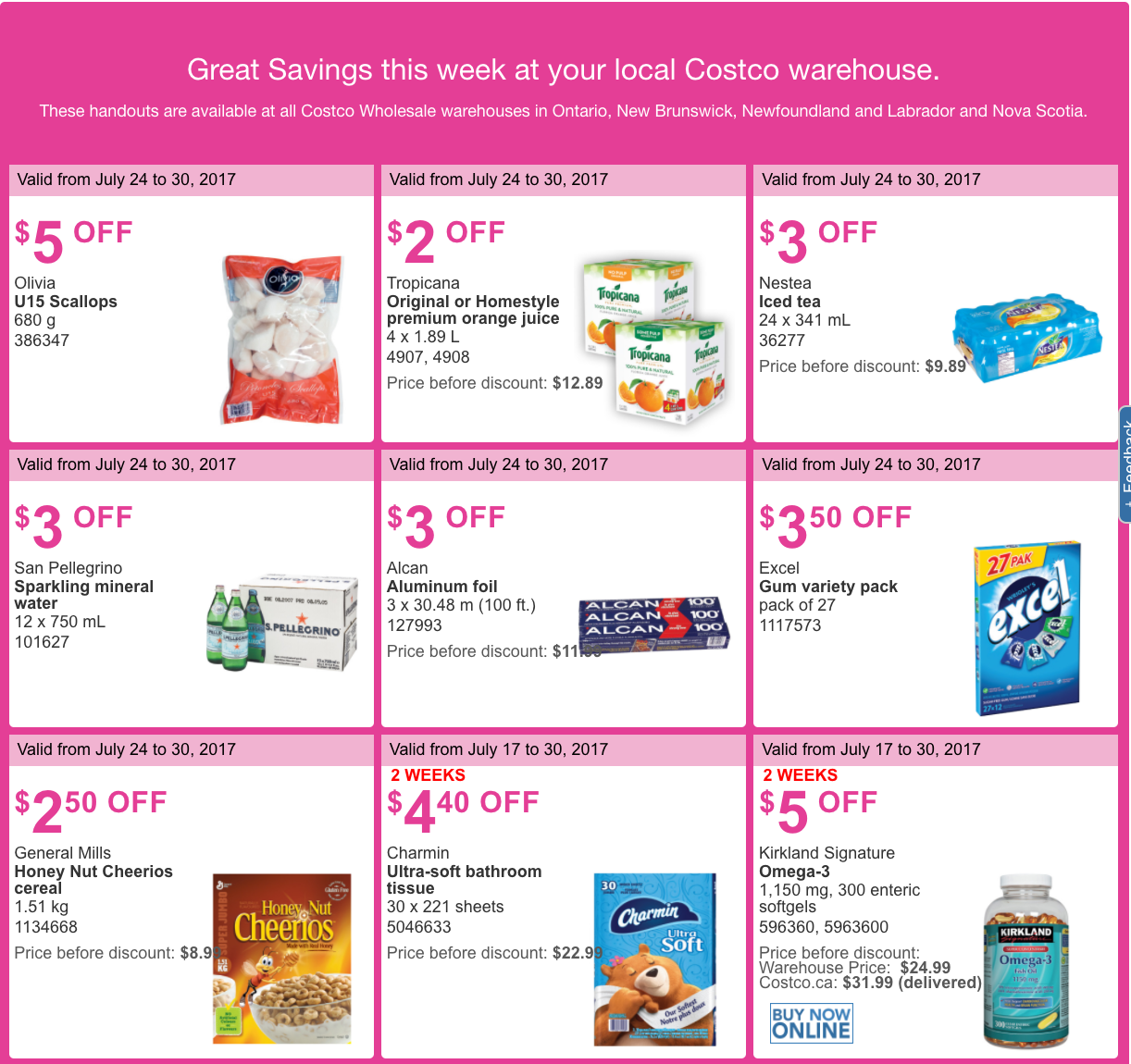 Costco Canada has now released the new eastern weekly instant discount handouts! These handouts are available at all Costco Wholesale warehouses in Ontario, New Brunswick, Newfoundland & Labrador and Nova Scotia.
These Costco Canada eastern instant flyers are valid from today, Monday, July 24, 2017 until Sunday, July 30, 2017. Only Costco members in good standing may use these instant savings handouts and Costco discount will be automatically added when you purchase any of these items.
The new Costco Canada instant weekly savings handouts for Ontario, New Brunswick, Newfoundland and Labrador and Nova Scotia provinces include:
$5 OFF Olivia U15 Scallops 680 g
$2 OFF Tropicana Original or Homestyle premium orange juice 4 x 1.89 L
$3 OFF Nestea Iced tea 24 x 341 mL
$3 OFF San Pellegrino Sparkling mineral water 12 x 750 mL
$3 OFF Alcan Aluminum foil 3 x 30.48 m (100 ft.)
$3.50 OFF Excel Gum variety pack pack of 27
$2.50 OFF General Mills Honey Nut Cheerios cereal 1.51 kg
$4.40 OFF Charmin Ultra-soft bathroom tissue 30 x 221 sheets
$5 OFF Kirkland Signature Omega-3 1,150 mg, 300 enteric softgels
$4 OFF Kirkland Signature Moist flushable wipes pack of 632
$25 OFF Oral-B Dual handle toothbrushes pack of 2
Click here to view all Costco Canada instant weekly handouts fly­ers.