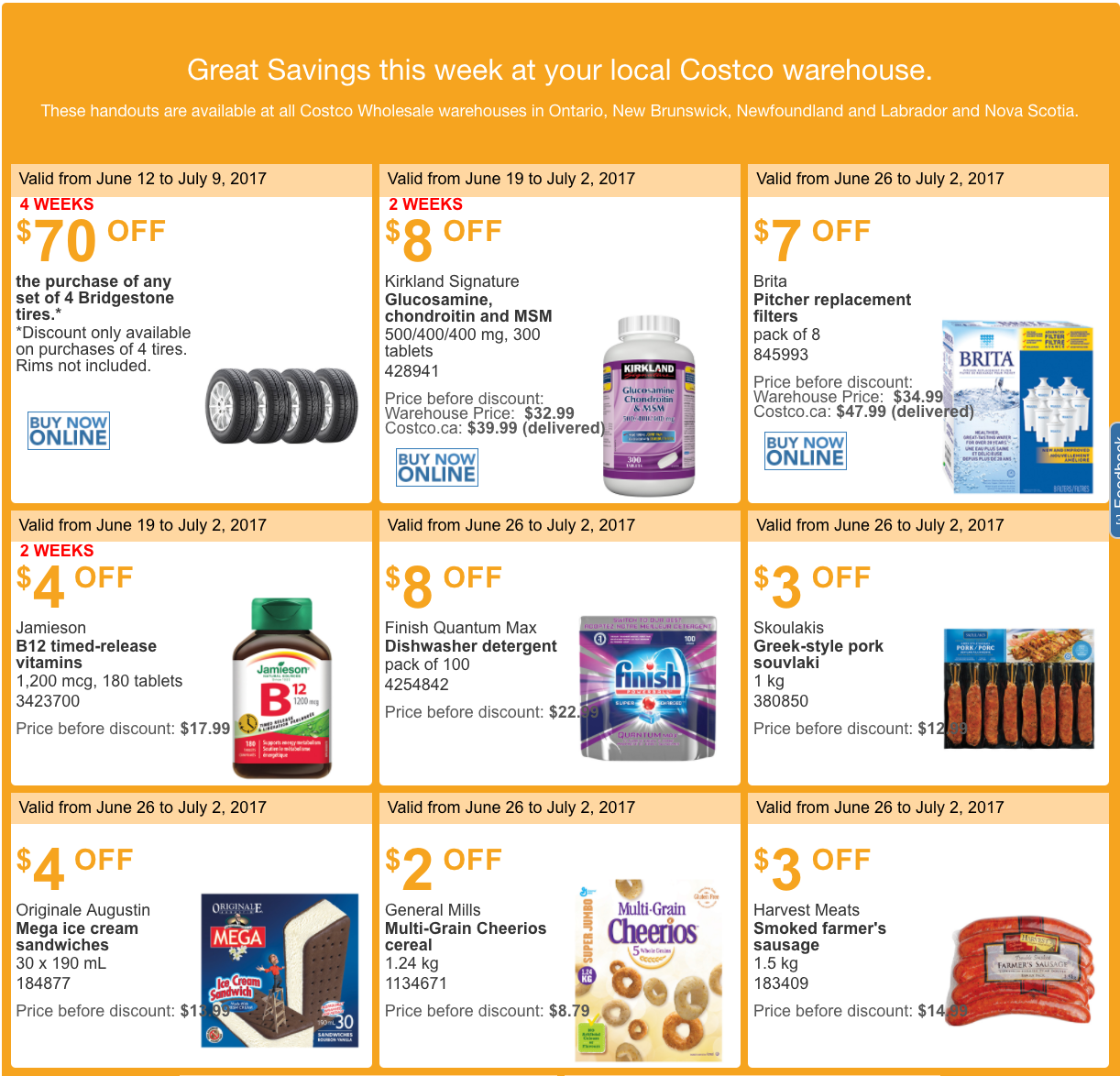 Costco Canada has now released the new eastern weekly instant discount handouts! These handouts are available at all Costco Wholesale warehouses in Ontario, New Brunswick, Newfoundland & Labrador and Nova Scotia.
These Costco Canada eastern instant flyers are valid from today, Monday, June 26, 2017 until Sunday, July 2, 2017, some of these coupons are valid until Sunday, July 9, 2017. Only Costco members in good standing may use these instant savings handouts and Costco discount will be automatically added when you purchase any of these items.
The new Costco Canada instant weekly savings handouts for Ontario, New Brunswick, Newfoundland and Labrador and Nova Scotia provinces include:
$70 OFF the purchase of any set of 4 Bridgestone tires. Discount only available on purchases of 4 tires. Rims not included.
$8 OFF Kirkland Signature Glucosamine, chondroitin and MSM 500/400/400 mg, 300 tablets
$7 OFF Brita Pitcher replacement filters pack of 8
$4 OFF Jamieson B12 timed-release vitamins 1,200 mcg, 180 tablets
$8 OFF Finish Quantum Max Dishwasher detergent pack of 100
$3 OFF Skoulakis Greek-style pork souvlaki 1 kg
$4 OFF Originale Augustin Mega ice cream sandwiches 30 x 190 mL
$2 OFF General Mills Multi-Grain Cheerios cereal 1.24 kg
$3 OFF Harvest Meats Smoked farmer's sausage 1.5 kg
$4 OFF Perrier Sparkling mineral water slim cans 35 x 250 mL
$4 OFF Gatorade or G2 Sport drink 28 x 591 mL
Click here to view all Costco Canada instant weekly handouts fly­ers.