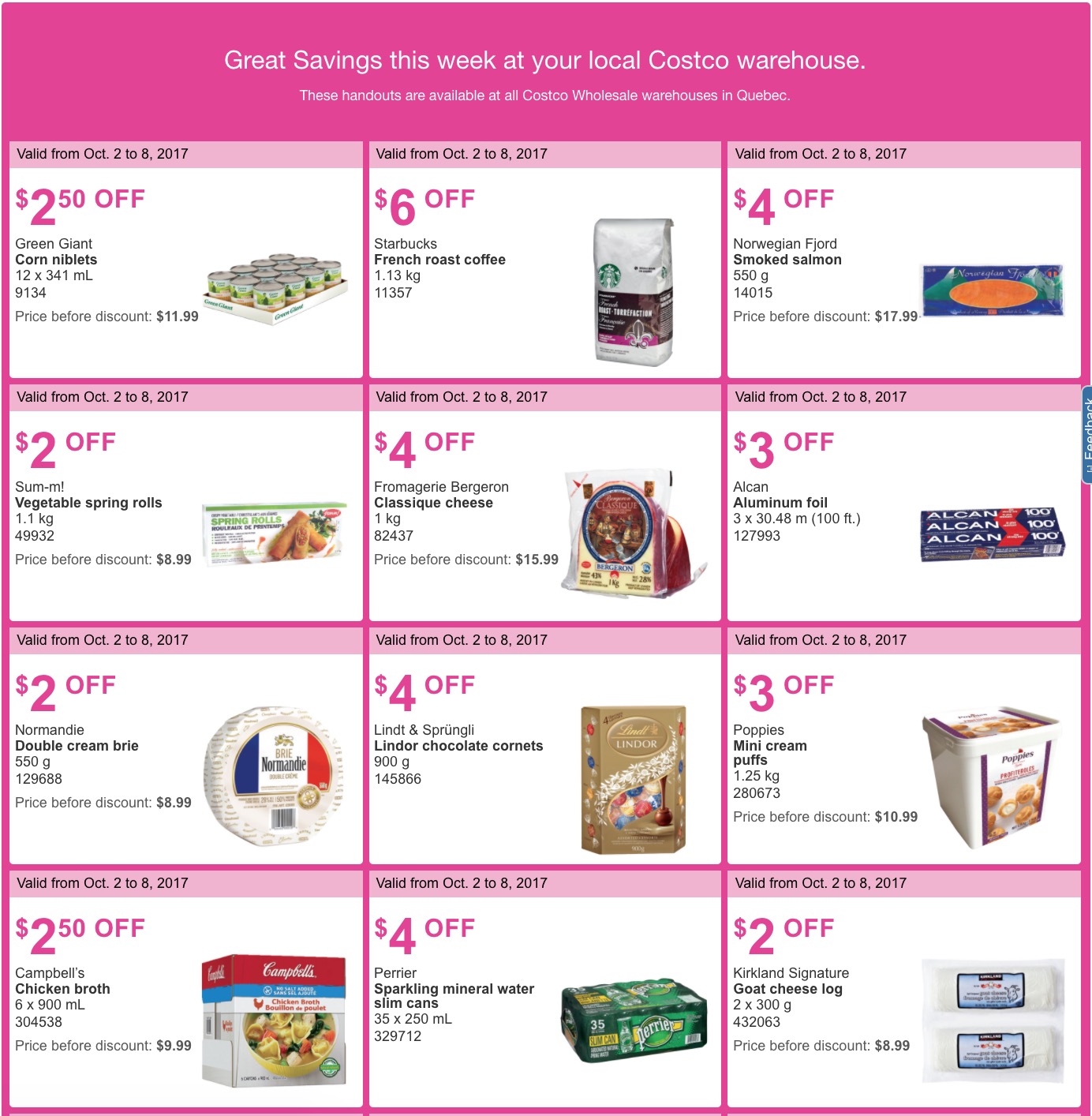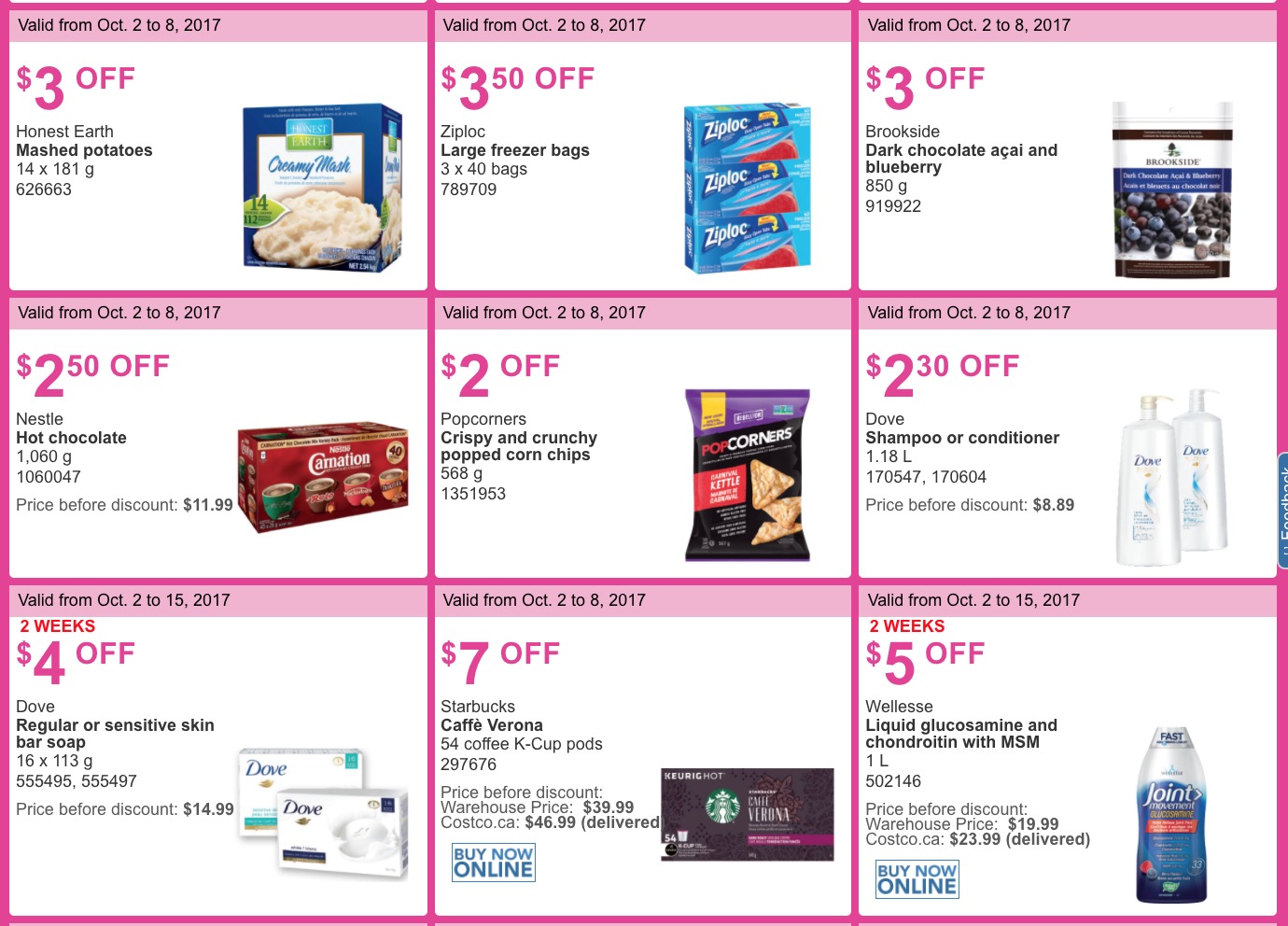 Costco Canada has now released the new weekly instant discount handouts! These handouts are available at all Costco wholesale warehouses in Quebec.
These Costco Canada eastern instant flyers are valid from today, Monday, October 2, 2017 until Sunday, October 8, 2017, some of these coupons are valid until Sunday, October 15, 2017.  Only Costco members in good standing may use these instant savings handouts and Costco discount will be automatically added when you purchase any of these items.
The new Costco Canada instant weekly savings handouts for Quebec province include:
$2.50 OFF Green Giant Corn niblets 12 x 341 mL
$6 OFF Starbucks French roast coffee 1.13 kg
$4 OFF Norwegian Fjord Smoked salmon 550 g
$2 OFF Sum-m! Vegetable spring rolls 1.1 kg
$4 OFF Fromagerie Bergeron Classique cheese 1 kg
$3 OFF Alcan Aluminum foil 3 x 30.48 m (100 ft.)
$2 OFF Normandie Double cream brie 550 g
$4 OFF Lindt & Sprüngli Lindor chocolate cornets 900 g
$3 OFF Poppies Mini cream puffs 1.25 kg
$2.50 OFF Campbell's Chicken broth 6 x 900 mL
$4 OFF Perrier Sparkling mineral water slim cans 35 x 250 mL
$2 OFF Kirkland Signature Goat cheese log 2 x 300 g
$3 OFF Honest Earth Mashed potatoes 14 x 181 g
$3.50 OFF Ziploc Large freezer bags 3 x 40 bags
$3 OFF Brookside Dark chocolate açai and blueberry 850 g
$2.50 OFF Nestle Hot chocolate 1,060 g
$2 OFF Popcorners Crispy and crunchy popped corn chips 568 g
$2.30 OFF Dove Shampoo or conditioner 1.18 L
$4 OFF Dove Regular or sensitive skin bar soap 16 x 113 g
$7 OFF Starbucks Caffè Verona 54 coffee K-Cup pods
$5 OFF Wellesse Liquid glucosamine and chondroitin with MSM 1 L
$25 OFF True Innovations Bonded leather task chair
$4 OFF Jamieson B12 timed-release vitamins 1,200 mcg, 180 tablets
$10 OFF Gillette Fusion ProShield Razor + 9 cartridges
$70 OFF the purchase of any set of 4 Bridgestone tires. Discount only available on purchases of 4 tires. Rims not included.
$80 OFF the purchase of any set of 4 Pirelli tires. Discount only available on purchases of 4 tires. Rims not included.
$15.99 EACH Ointment Polysporin Complete 2 x 30 g
$10.99 EACH Day and night relief Tylenol Cold 60 tablets
$43.99 EACH QuickMist Nicorette pack of 2
$11.99 EACH Cold and flu relief syrup Benylin All-in-One 2 x 180 mL
$11.99 EACH Cold, cough and flu relief for children Tylenol Complete 3 x 100 mL
$10.99 EACH Extended relief for arthritis pain Kirkland Signature 400 caplets
Click here to view all Costco Canada instant weekly handouts fly­ers.