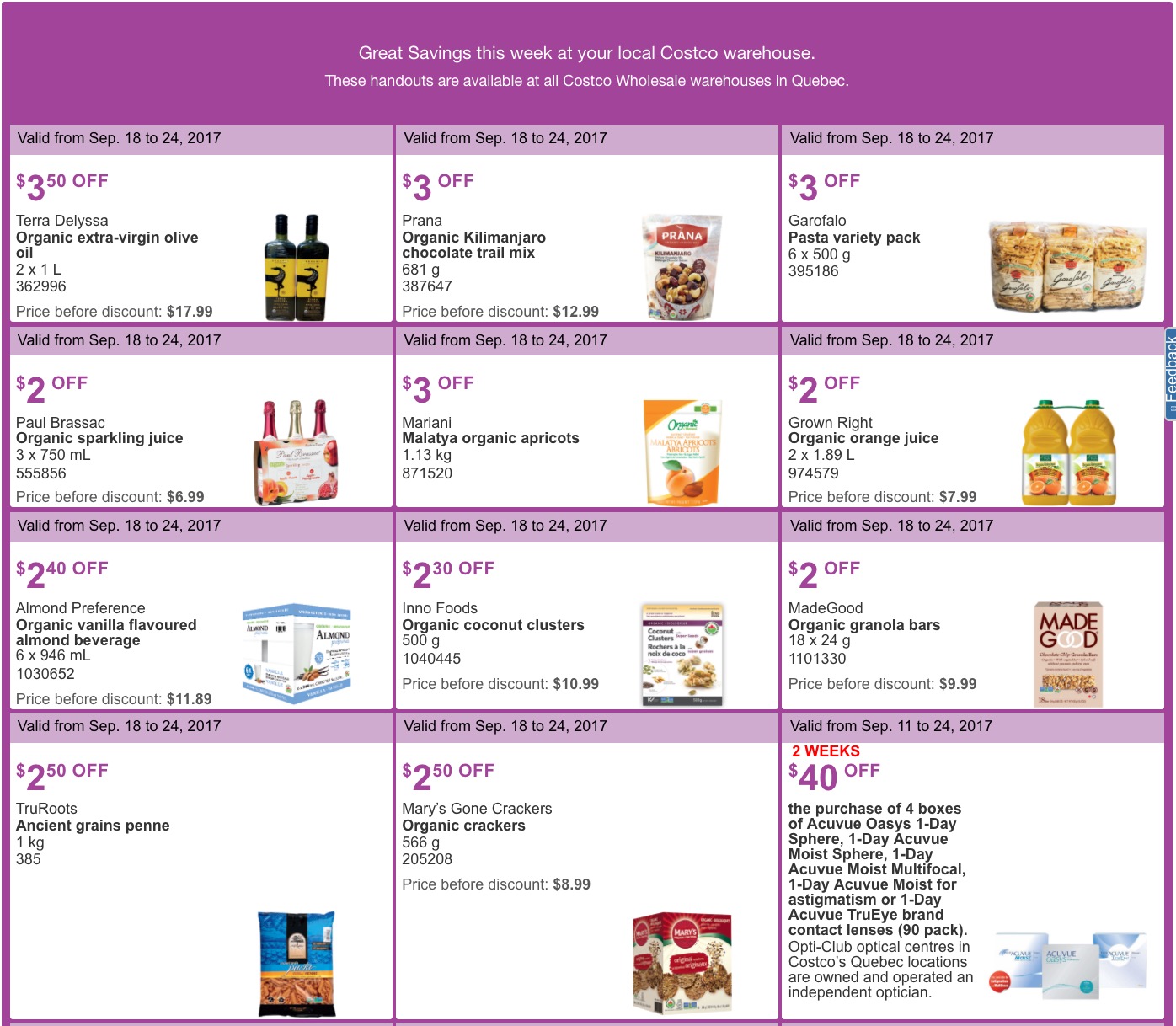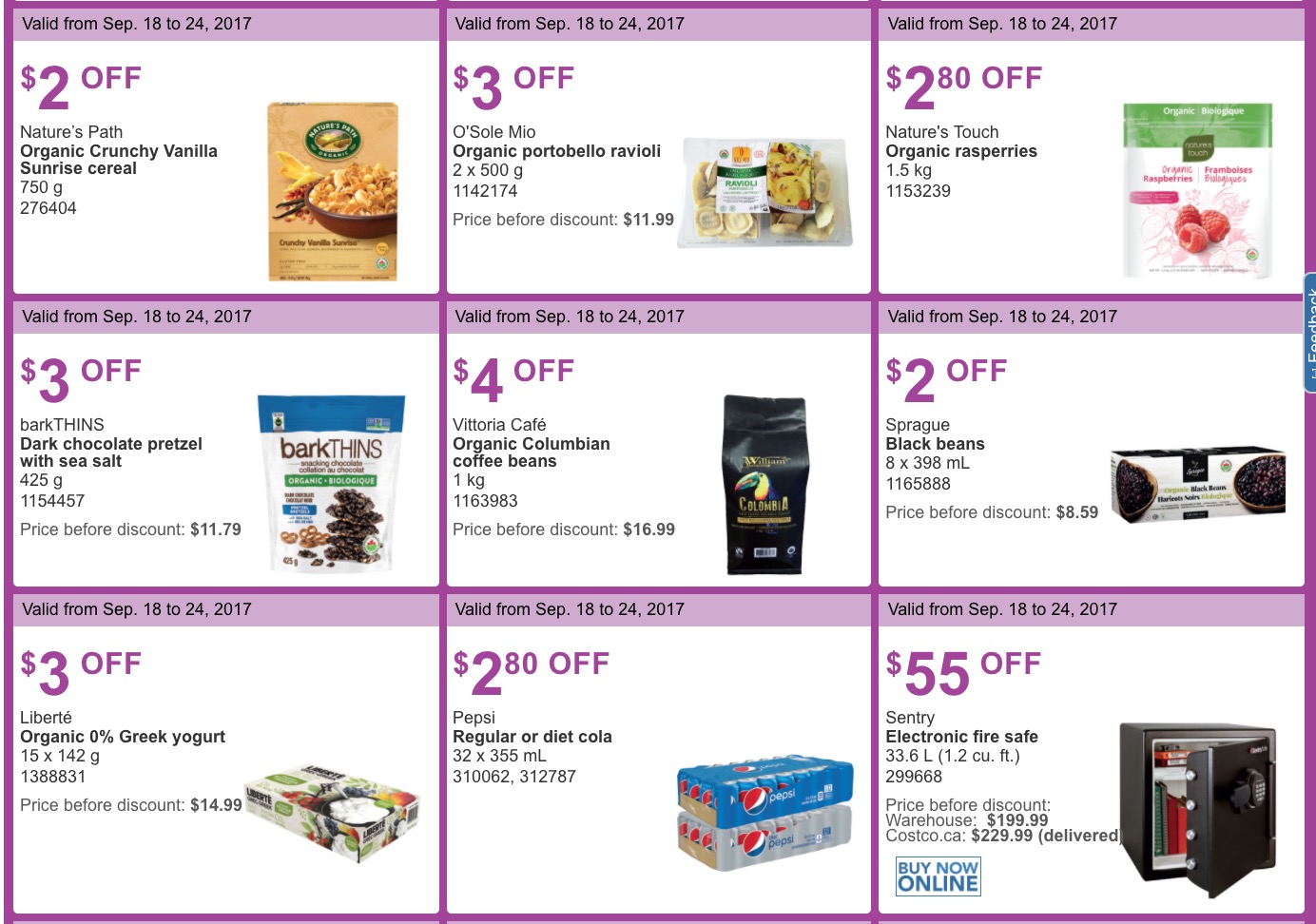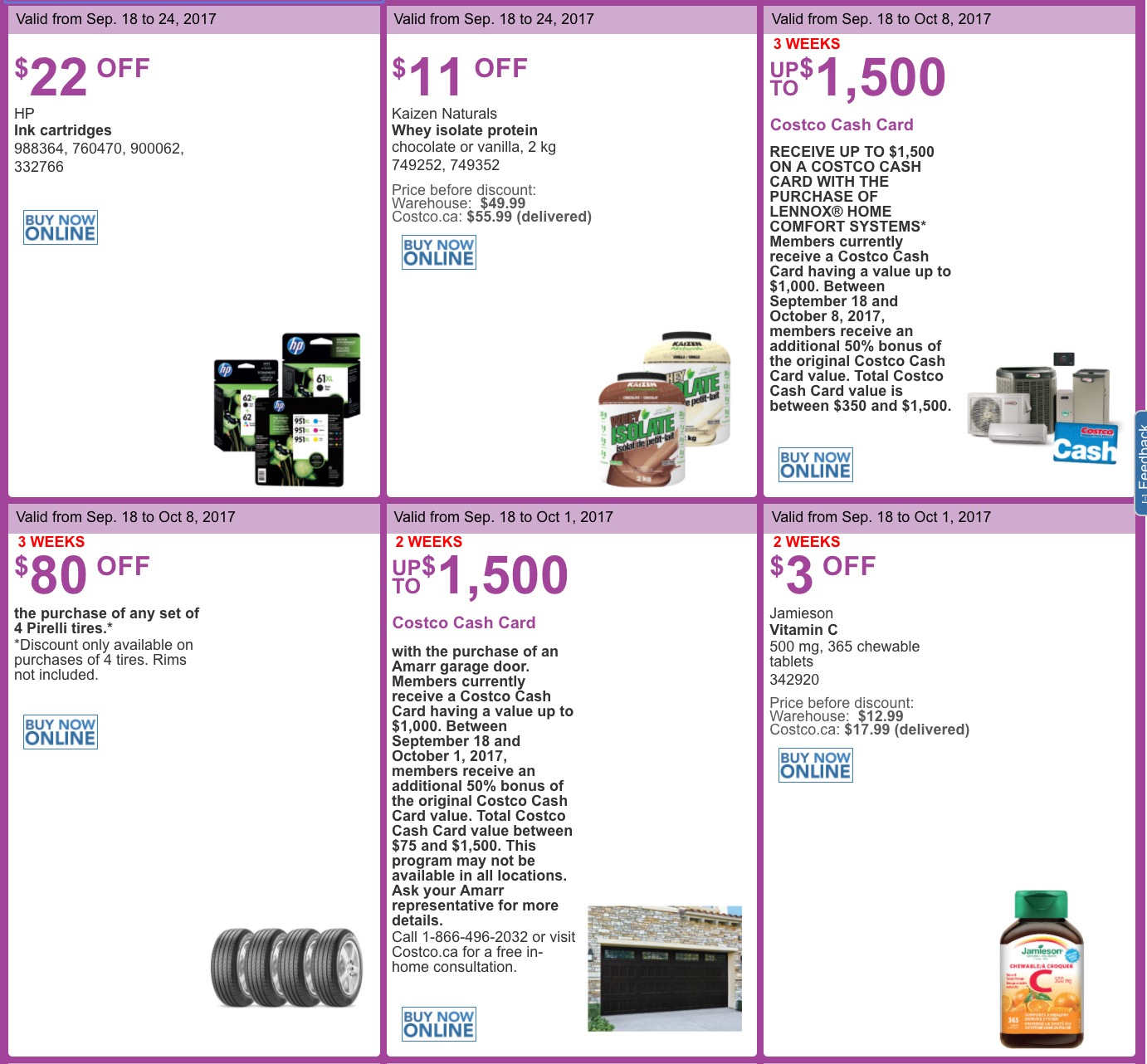 Costco Canada has now released the new weekly instant discount handouts! These handouts are available at all Costco wholesale warehouses in Quebec.
These Costco Canada eastern instant flyers are valid from today, Monday, September 18, 2017 until Sunday, September 24, 2017, some of these coupons are valid until Sunday, October 8, 2017.  Only Costco members in good standing may use these instant savings handouts and Costco discount will be automatically added when you purchase any of these items.
The new Costco Canada instant weekly savings handouts for Quebec province include:
$3.50 OFF Terra Delyssa Organic extra-virgin olive oil 2 x 1 L
$3 OFF Prana Organic Kilimanjaro chocolate trail mix 681 g
$3 OFF Garofalo Pasta variety pack 6 x 500 g
$2 OFF Paul Brassac Organic sparkling juice 3 x 750 mL
$3 OFF Mariani Malatya organic apricots 1.13 kg
$2 OFF Grown Right Organic orange juice 2 x 1.89 L
$2.40 OFF Almond Preference Organic vanilla flavoured almond beverage 6 x 946 mL
$2.30 OFF Inno Foods Organic coconut clusters 500 g
$2 OFF MadeGood Organic granola bars 18 x 24 g
$2.50 OFF TruRoots Ancient grains penne 1 kg
$2.50 OFF Mary's Gone Crackers Organic crackers 566 g
$40 OFF the purchase of 4 boxes of Acuvue Oasys 1-Day Sphere, 1-Day Acuvue Moist Sphere, 1-Day Acuvue Moist Multifocal, 1-Day Acuvue Moist for astigmatism or 1-Day Acuvue TruEye brand contact lenses (90 pack).
$2 OFF Nature's Path Organic Crunchy Vanilla Sunrise cereal 750 g
$3 OFF O'Sole Mio Organic portobello ravioli 2 x 500 g
$2.80 OFF Nature's Touch Organic rasperries 1.5 kg
$3 OFF barkTHINS Dark chocolate pretzel with sea salt 425 g
$4 OFF Vittoria Café Organic Columbian coffee beans 1 kg
$2 OFF Sprague Black beans 8 x 398 mL
$3 OFF Liberté Organic 0% Greek yogurt 15 x 142 g
$2.80 OFF Pepsi Regular or diet cola 32 x 355 mL
$55 OFF Sentry Electronic fire safe 33.6 L (1.2 cu. ft.)
$22 OFF HP Ink cartridges
$11 OFF Kaizen Naturals Whey isolate protein chocolate or vanilla, 2 kg
UP TO$1,500 Costco Cash Card. RECEIVE UP TO $1,500 ON A COSTCO CASH CARD WITH THE PURCHASE OF LENNOX HOME COMFORT SYSTEMS
$80 OFF the purchase of any set of 4 Pirelli tires. Discount only available on purchases of 4 tires. Rims not included.
UP TO$1,500 Costco Cash Card with the purchase of an Amarr garage door
$3 OFF Jamieson Vitamin C 500 mg, 365 chewable tablets
$70 OFF the purchase of any set of 4 Bridgestone tires
$3 OFF Webber  Skin relief body wash 3 x 532 mL
$6 OFF Webber Naturals Glucosamine and chondroitin with Vitamin D3 500/400 mg, 300 capsules
Click here to view all Costco Canada instant weekly handouts fly­ers.