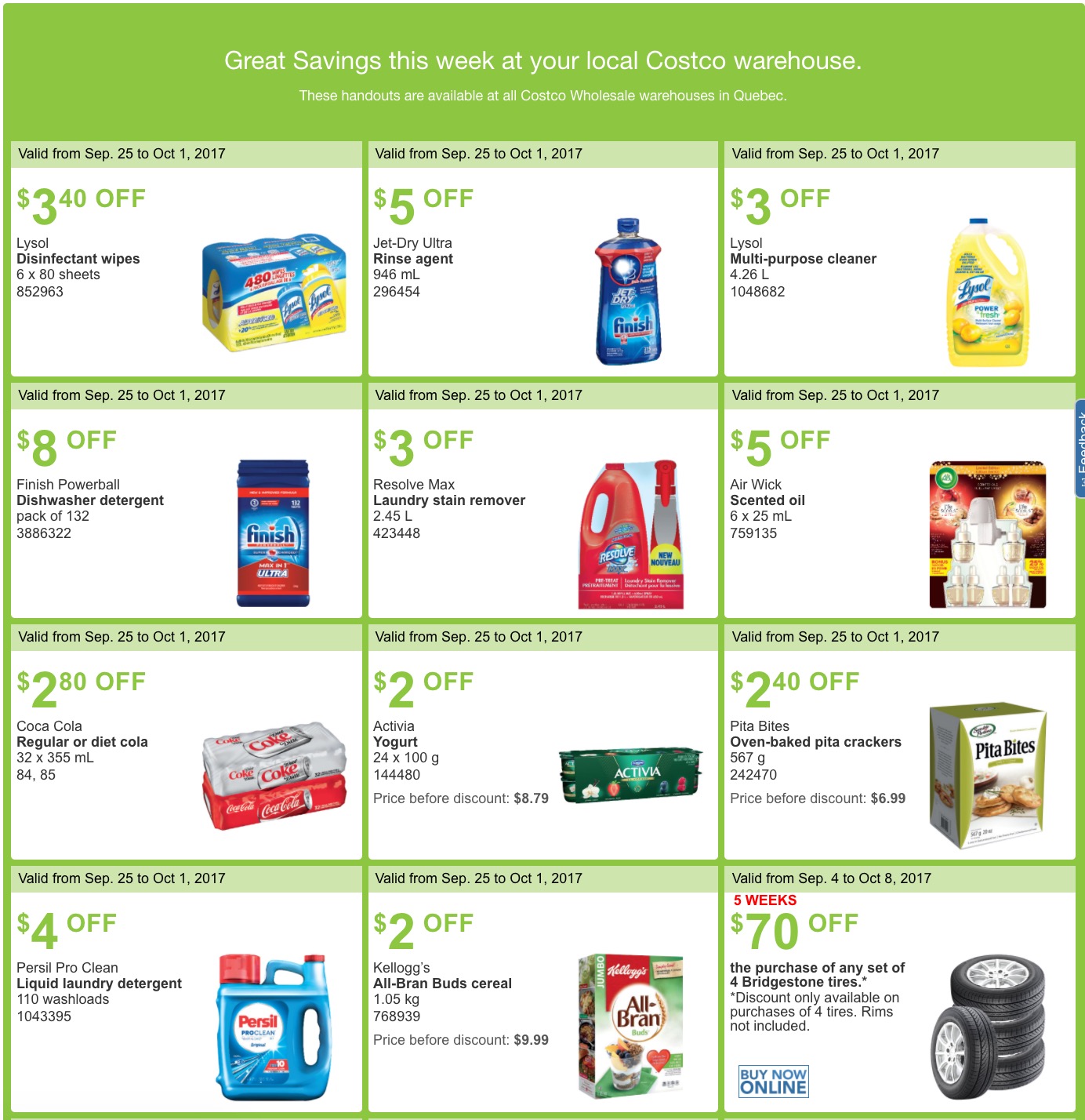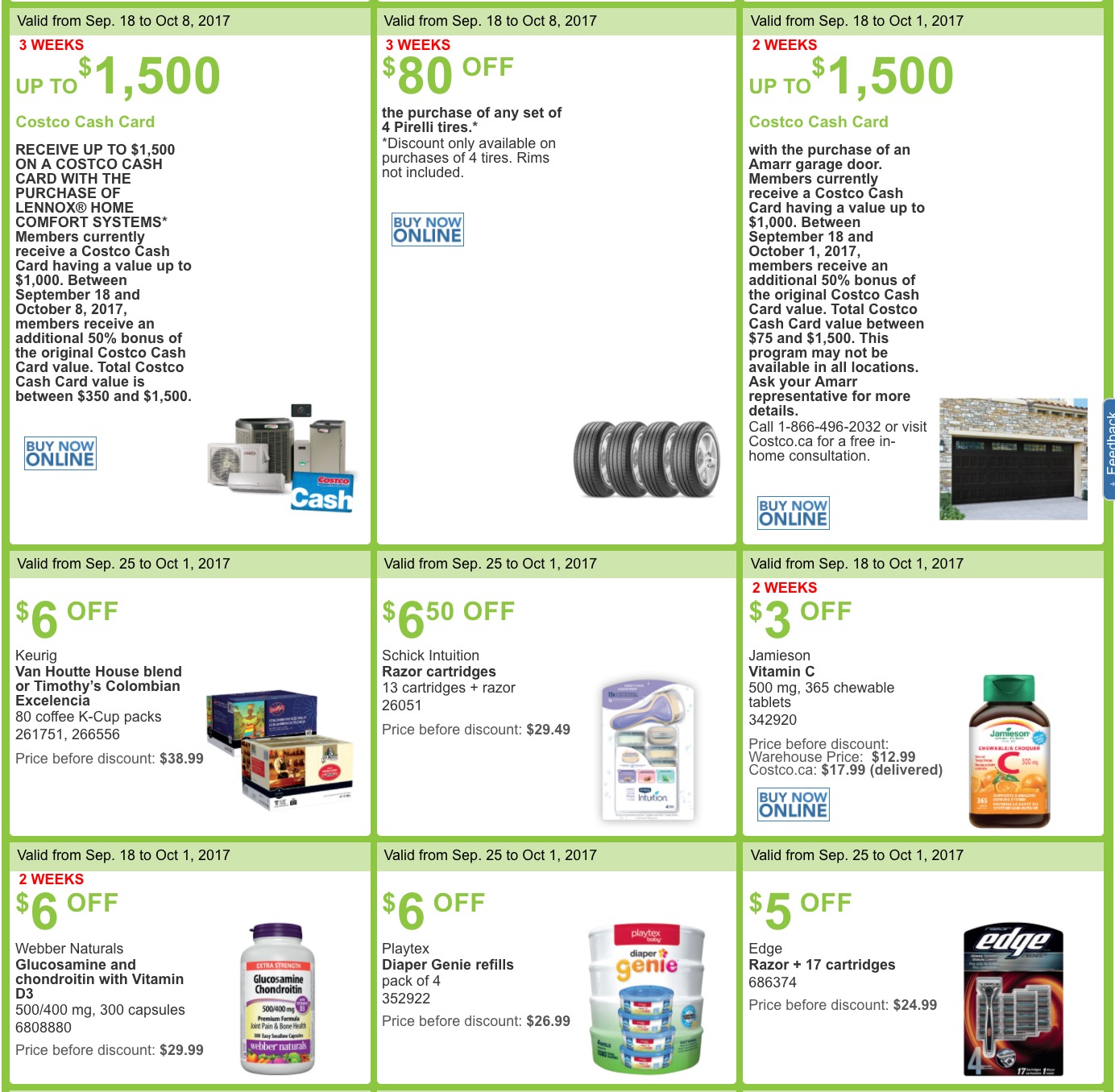 Costco Canada has now released the new weekly instant discount handouts! These handouts are available at all Costco wholesale warehouses in Quebec.
These Costco Canada eastern instant flyers are valid from today, Monday, September 24, 2017 until Sunday, October 1, 2017, some of these coupons are valid until Sunday, October 8, 2017.  Only Costco members in good standing may use these instant savings handouts and Costco discount will be automatically added when you purchase any of these items.
The new Costco Canada instant weekly savings handouts for Quebec province include:
$3.40 OFF Lysol Disinfectant wipes 6 x 80 sheets
$5 OFF Jet-Dry Ultra Rinse agent 946 mL
$3 OFF Lysol Multi-purpose cleaner 4.26 L
$8 OFF Finish Powerball Dishwasher detergent pack of 132
$3 OFF Resolve Max Laundry stain remover 2.45 L
$5 OFF Air Wick Scented oil 6 x 25 mL
$2.80 OFF Coca Cola Regular or diet cola 32 x 355 mL
$2 OFF Activia Yogurt 24 x 100 g
$2.40 OFF Pita Bites Oven-baked pita crackers 567 g
$4 OFF Persil Pro Clean Liquid laundry detergent 110 washloads
$2 OFF Kellogg's All-Bran Buds cereal 1.05 kg
$70 OFF the purchase of any set of 4 Bridgestone tires. Discount only available on purchases of 4 tires. Rims not included.
UP TO$1,500 Costco Cash Card RECEIVE UP TO $1,500 ON A COSTCO CASH CARD WITH THE PURCHASE OF LENNOX HOME COMFORT SYSTEMS
$80 OFF the purchase of any set of 4 Pirelli tires. Discount only available on purchases of 4 tires. Rims not included.
UP TO$1,500 Costco Cash Card with the purchase of an Amarr garage door.
Call 1-866-496-2032 or visit Costco.ca for a free in-home consultation.
$6 OFF Keurig Van Houtte House blend or Timothy's Colombian Excelencia 80 coffee K-Cup packs
$6.50 OFF Schick Intuition Razor cartridges 13 cartridges + razor
$3 OFF Jamieson Vitamin C 500 mg, 365 chewable tablets
$6 OFF Webber Naturals Glucosamine and chondroitin with Vitamin D3 500/400 mg, 300 capsules
$6 OFF Playtex Diaper Genie refills pack of 4
$5 OFF Edge Razor + 17 cartridges
$12 OFF MusclePharm Combat cookies 'n' cream protein powder 2.27 kg
$7.50 OFF Olay Total Effects Moisturizer 2 x 50 mL
$25 OFF Oral-B CrossAction Rechargeable toothbrushes pack of 2 handles
$4 OFF Impressions Velvet plush throw 60 in. x 70 in., various colours
Click here to view all Costco Canada instant weekly handouts fly­ers.