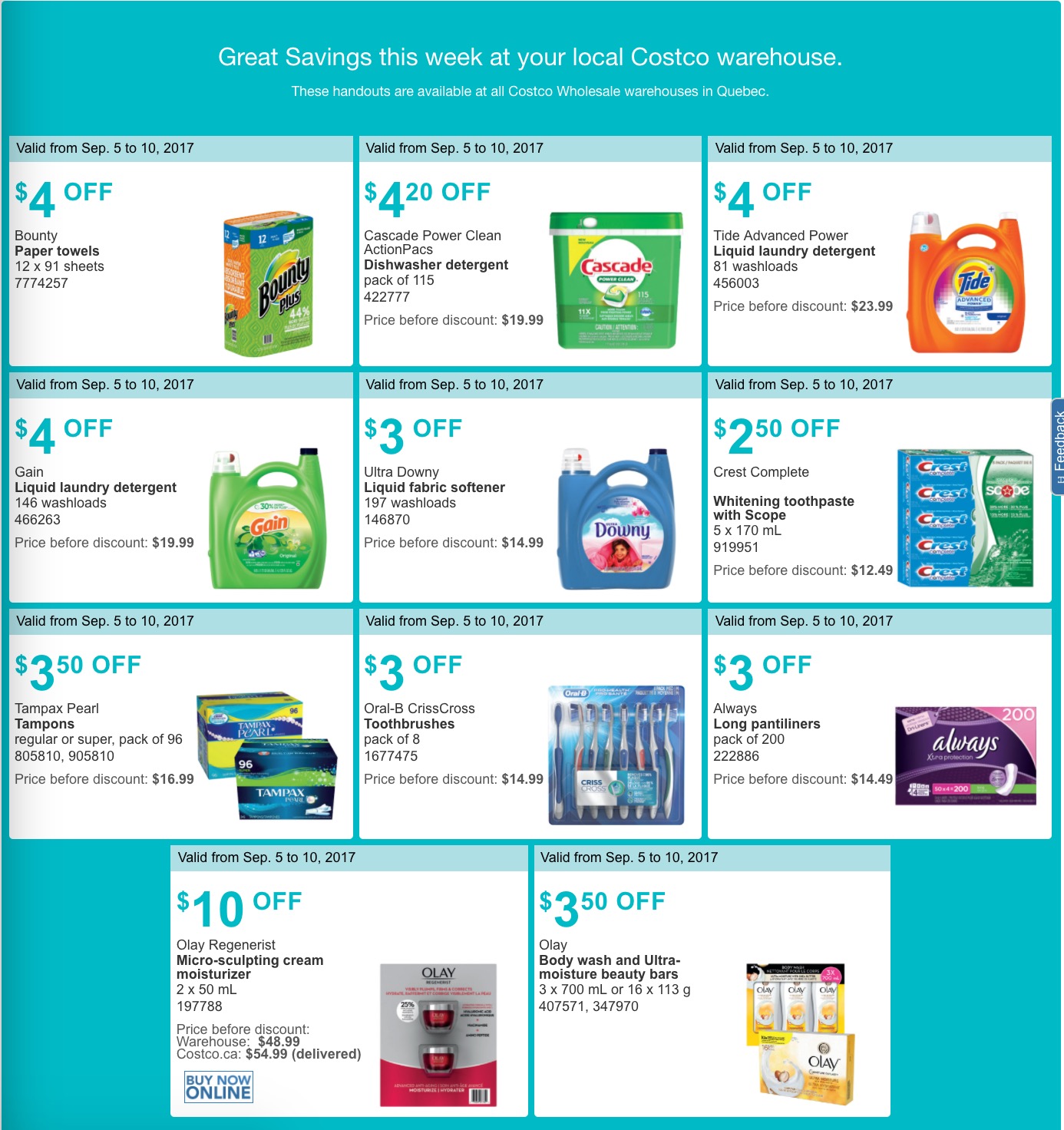 Costco Canada has now released the new weekly instant discount handouts! These handouts are available at all Costco wholesale warehouses in Quebec.
These Costco Canada eastern instant flyers are valid from today, Tuesday, September 5, 2017 until Sunday, September 10, 2017.  Only Costco members in good standing may use these instant savings handouts and Costco discount will be automatically added when you purchase any of these items.
The new Costco Canada instant weekly savings handouts for Quebec province include:
$4 OFF Bounty Paper towels 12 x 91 sheets
$4.20 OFF Cascade Power Clean ActionPacs Dishwasher detergent pack of 115
$4 OFF Tide Advanced Power Liquid laundry detergent 81 washloads
$4 OFF Gain Liquid laundry detergent 146 washloads
$3 OFF Ultra Downy Liquid fabric softener 197 washloads
$2.50 OFF Crest Complete Whitening toothpaste with Scope 5 x 170 mL
$3.50 OFF Tampax Pearl Tampons regular or super, pack of 96
$3 OFF Oral-B CrissCross Toothbrushes pack of 8
$3 OFF Always Long pantiliners pack of 200
$10 OFF Olay Regenerist Micro-sculpting cream moisturizer 2 x 50 mL
$3.50 OFF Olay Body wash and Ultra-moisture beauty bars 3 x 700 mL or 16 x 113 g
Click here to view all Costco Canada instant weekly handouts fly­ers.