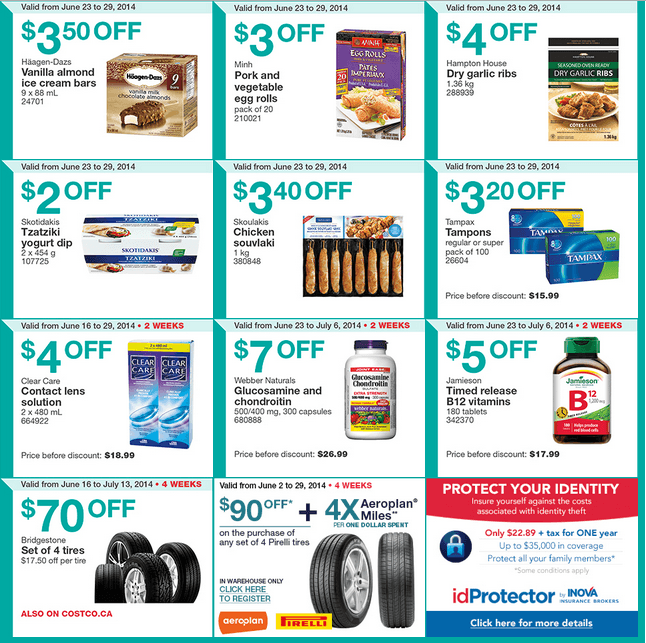 Costco Canada announced now the western new weekly instant handouts. These Costco savings handouts are available at all Costco wholesale warehouses in British Columbia, Alberta, Saskatchewan and Manitoba. Some of these Costco Canada Western instant flyers are valid until Sunday, June 29, 2014. Also, some of these Costco coupons are valid until Sun­day, July 6, 2014. The new Costco Canada western instant weekly handouts from today include:
$7,20 OFF Huggies Pull-Ups. all sizes. girls and boys.
$6 OFF Huggies Natural Care Plus wipes. pack of 1,120. Price before discount: $26.49.
$2 OFF Frito-Lay Munchies snack mix. 1.1 kg.
$2.50 OFF Oberto Original beef jerky. 300 g.
$4 OFF Bee Maid Creamed honey. 2 kg.
$3 OFF Mott's Clamato juice. 4 x 1.89 L.
$3.20 OFF Talking Rain Vitamin enhanced water. 24 x 502 mL.
$4 OFF Gatorade or G2 Sports drink. 28 x 591 mL.
$2.80 OFF Harvest Meats Farmer's sausage. 1.5 kg.
$3.50 OFF Häagen-Dazs Vanilla almond ice cream bars. 9 x 88 mL.
$3 OFF Minh Pork and vegetable egg rolls. pack of 20.
$4 OFF Hampton House Dry garlic ribs. 1.36 kg.
$2 OFF Skotidakis Tzatziki yogurt dip. 2 x 454 g.
$3.40 OFF Skoulakis Chicken souvlaki. 1 kg.
$3.20 OFF Tampax Tampons. regular or super. pack of 100. Price before discount: $15.99.
$4 OFF Clear Care Contact lens solution. 2 x 480 mL. Price before discount: $18.99.
$7 OFF Webber Naturals Glucosamine and chondroitin. 500/400 mg, 300 capsules. Price before discount: $26.99.
$5 OFF Jamieson Timed release B12 vitamins. 180 tablets. Price before discount: $17.99.
$70 OFF Bridgestone Set of 4 tires. $17.50 off per tire. ALSO ON COSTCO.CA.
$90 off* on the purchase of any set of 4 Pirelli tires + 4X Aeroplan Miles per one dollar spent. IN WAREHOUSE ONLY.
Only Costco Canada members may use these instant savings handouts flyers and Costco discount will be automatically added when you purchase any of these items.
Click here to view all Costco Canada instant weekly handouts fly­ers.