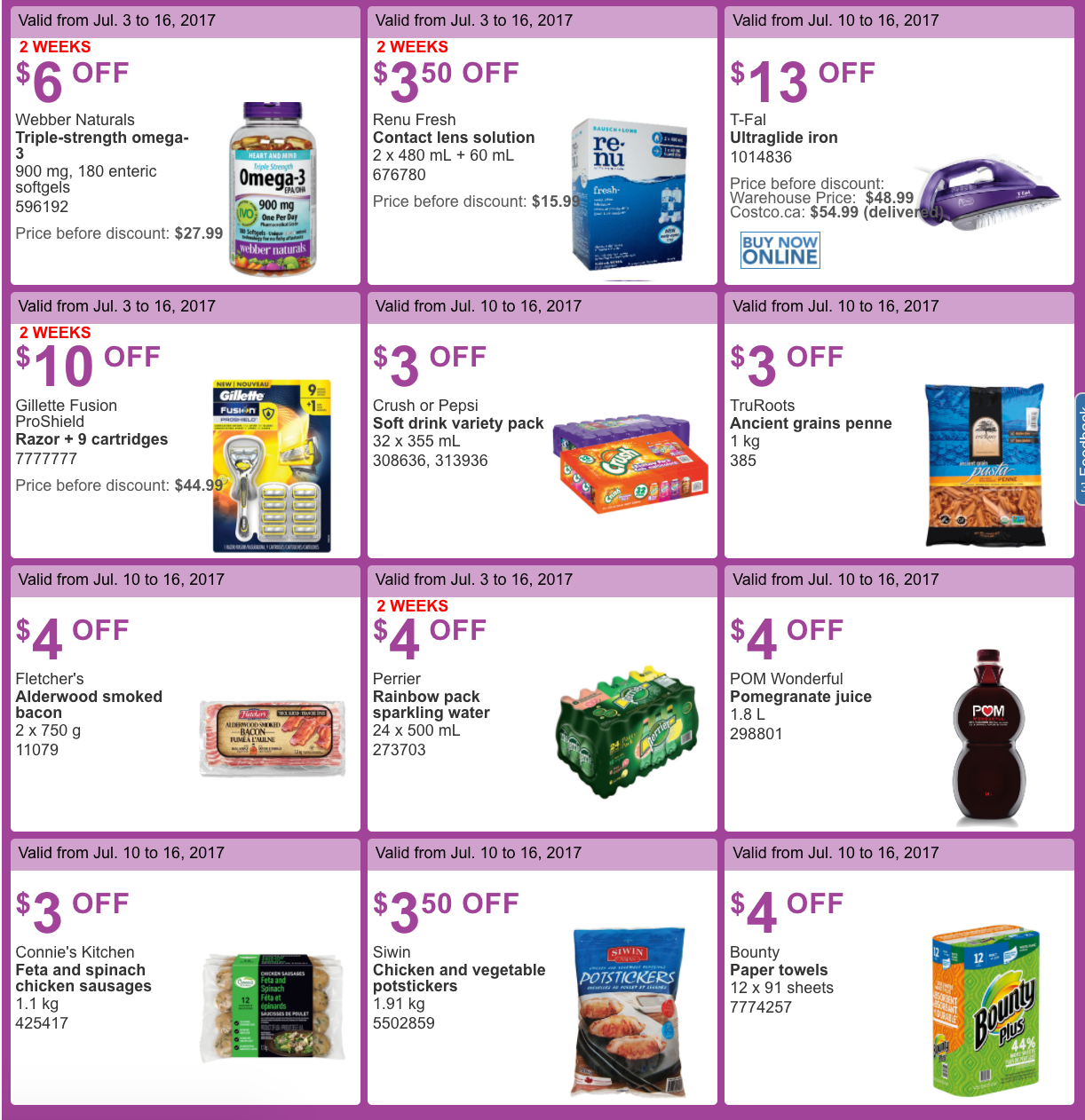 Costco Canada has now released the new western weekly instant discount handouts! These handouts are available at all Costco Wholesale warehouses in British Columbia, Alberta, Saskatchewan and Manitoba. Only Costco Canada members may use these instant savings handouts. These new Costco Canada instant savings handouts for British Columbia, Alberta, Saskatchewan and Manitoba are valid from today, Monday, July 10, 2017 until Sunday, July 16, 2017, some of these coupons are valid until Sunday, July 23, 2017, and include:
$25 OFF Serengeti Sunglasses various styles
$55 OFF the purchase of 4 boxes of Bausch + Lomb Ultra Sphere or for Presbyopia (6 pack), Biotrue ONEday Sphere or for Presbyopia (90 pack).
UP TO$1,500 Costco Cash Card Lennox
$2 OFF Dove Shampoo or conditioner 1.18 L
$3.20 OFF Listerine Total Care Zero Mouthwash 2 x 1.5 L
$50 OFF Whirlpool Water cooler
$6 OFF Webber Naturals Triple-strength omega-3 900 mg, 180 enteric softgels
$3.50 OFF Renu Fresh Contact lens solution 2 x 480 mL + 60 mL
$13 OFF T-Fal Ultraglide iron
$10 OFF Gillette Fusion ProShield Razor + 9 cartridges
$3 OFF Crush or Pepsi Soft drink variety pack 32 x 355 mL
$3 OFF TruRoots Ancient grains penne 1 kg
$4 OFF Fletcher's Alderwood smoked bacon 2 x 750 g
$4 OFF Perrier Rainbow pack sparkling water 24 x 500 mL
$4 OFF POM Wonderful Pomegranate juice 1.8 L
$3 OFF Connie's Kitchen Feta and spinach chicken sausages 1.1 kg
$3.50 OFF Siwin Chicken and vegetable potstickers 1.91 kg
$4 OFF Bounty Paper towels 12 x 91 sheets
Click here to view all Costco Canada instant weekly handouts fly­ers.