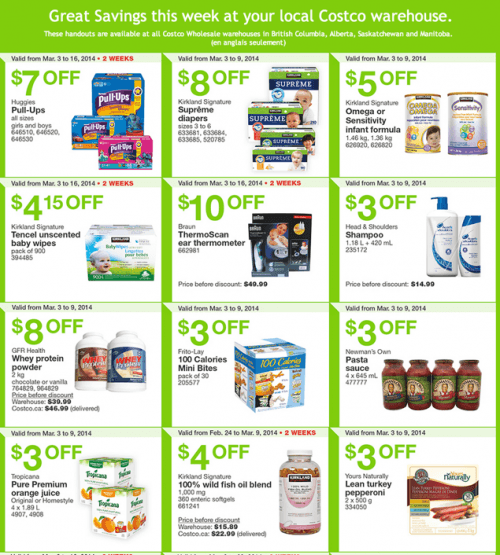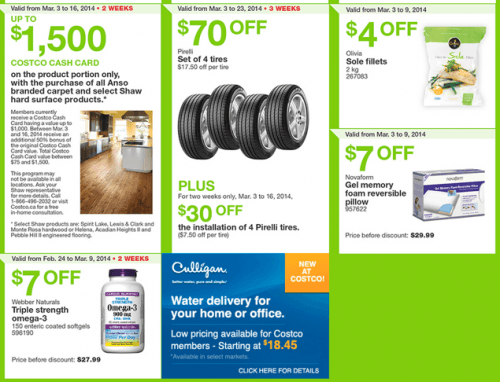 Costco Canada West­ern has updated their weekly instant hand­outs flyers! These Costco Weekly instant coupons, flyers are avail­able at all Costco whole­sale ware­houses in British Colum­bia, Alberta, Saskatchewan and Man­i­toba from today, Monday, March 3 until Sun­day, March 9, 2014. Also, some of these Costco instant coupons are valid for 2 weeks, until Sunday, March 16, 2014. Costco members only may use these instant savings.
$7 off Huggies pull ups all sizes boys and girls
$8 off Kirkland Signature supreme diapers
$5 off Kirkland Signature Omega or Sensitivity Infant Formula
$4.15 off Kirkland Signature Tencel Unscented baby Wipes
10 off Braun ThermoScan Ear Thermometer
$3 off Head and Shoulders Shampoo
$8 off GFR Healthy Whey Protein Powder
$3 off Frito-Lay 100 calories mini bites, pack of 30
$3 off Newman's Own Pasta sauce 4 X 645 ml
$3 off Tropicana pure premium orange juice 4 X 1.89L
$4 off Kirkland Signature 100% Wild Fish Oil Blend 1000mg 360 enteric coated Softgels
$3 off Yours Naturally lean turkey pepperoni 2 x 500 gm
Up to $1,500 Costco Cash Card with purchase of all Anso branded Carpet and select Shaw Hard Surface Products
$70 off Pirelli Set of 4 Tires PLUS $30 off the installation
$4 off Olivia Sole Fillets 2 kg
$7 off Novaform Gel Memory Foam Reversible Pillow
$7 off Webber Naturals Triple Strength Omega-3, 150 enteric coated softgels
 Click here to view all Costco Canada flyers.