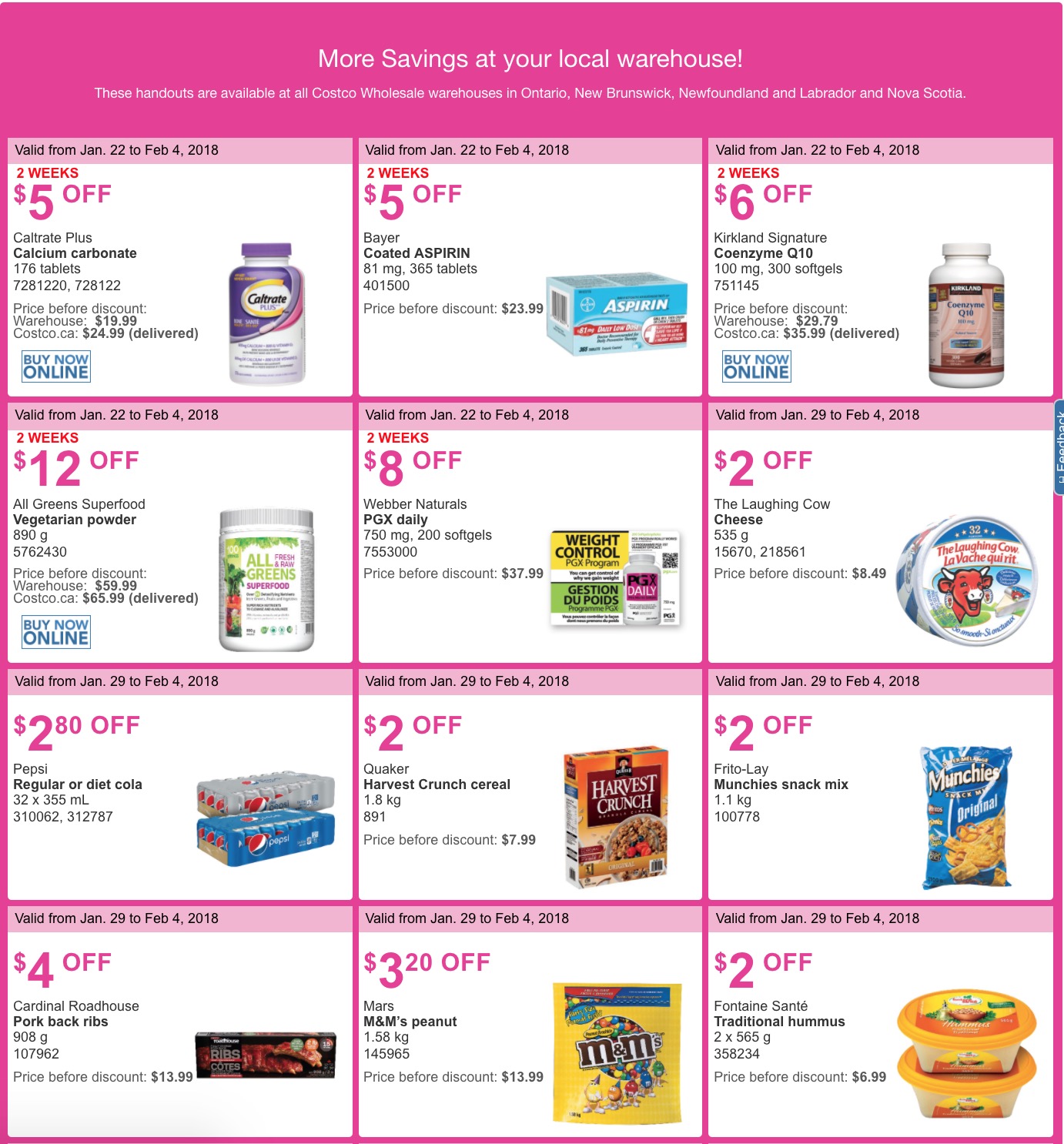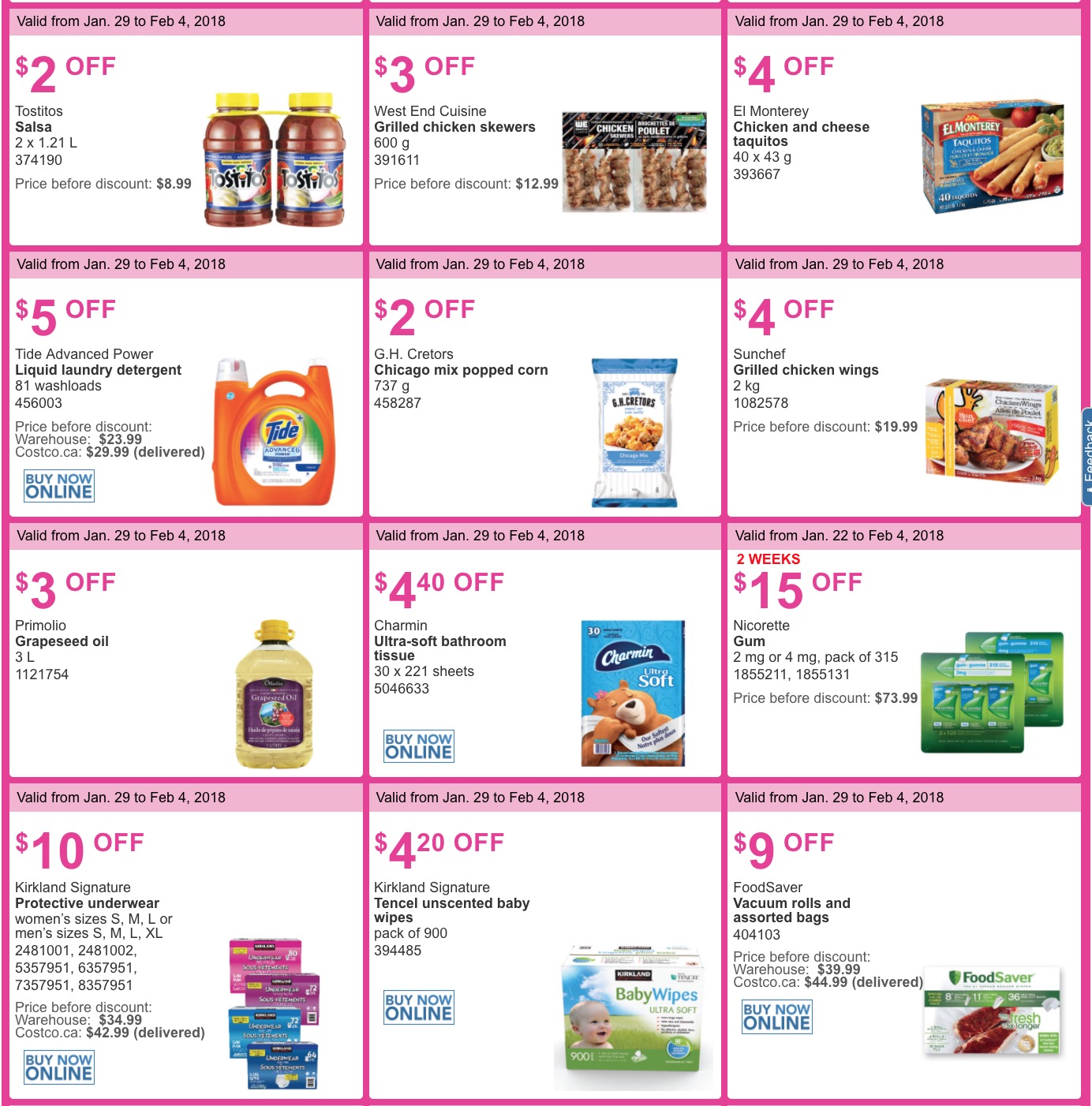 Costco Canada has now released the new eastern weekly instant discount handouts! These handouts are available at all Costco Wholesale warehouses in Ontario, New Brunswick, Newfoundland & Labrador and Nova Scotia.
These Costco Canada eastern instant flyers are valid from, January 29, 2018 until, February 4, 2018. Some of the deals are valid until February 11, 2018. Only Costco members in good standing may use these instant savings handouts and Costco discount will be automatically added when you purchase any of these items.
The new Costco Canada instant weekly savings handouts for Ontario, New Brunswick, Newfoundland and Labrador and Nova Scotia provinces include:
$5 OFF Caltrate Plus Calcium carbonate 176 tablets
$5 OFF Bayer Coated ASPIRIN 81 mg, 365 tablets
$6 OFF Kirkland Signature Coenzyme Q10 100 mg, 300 softgels
$12 OFF All Greens Superfood Vegetarian powder 890 g
$8 OFF Webber Naturals PGX daily 750 mg, 200 softgels
$2 OFF The Laughing Cow Cheese 535 g
$2.80 OFF Pepsi Regular or diet cola 32 x 355 mL
$2 OFF Quaker Harvest Crunch cereal 1.8 kg
$2 OFF Frito-Lay Munchies snack mix 1.1 kg
$4 OFF Cardinal Roadhouse Pork back ribs 908 g
$3.20 OFF Mars M&M's peanut 1.58 kg
$2 OFF Fontaine Santé Traditional hummus 2 x 565 g
$2 OFF Tostitos Salsa 2 x 1.21 L
$3 OFF West End Cuisine Grilled chicken skewers 600 g
$4 OFF El Monterey Chicken and cheese taquitos 40 x 43 g
$5 OFF Tide Advanced Power Liquid laundry detergent 81 washloads
$2 OFF G.H. Cretors Chicago mix popped corn 737 g
$4 OFF Sunchef Grilled chicken wings 2 kg
$3 OFF Primolio Grapeseed oil 3 L
$4.40 OFF Charmin Ultra-soft bathroom tissue 30 x 221 sheets
$15 OFF Nicorette Gum 2 mg or 4 mg, pack of 315
$10 OFF Kirkland Signature Protective underwear women's sizes S, M, L or men's sizes S, M, L, XL
$4.20 OFF Kirkland Signature Tencel unscented baby wipes pack of 900
$9 OFF FoodSaver Vacuum rolls and assorted bags
$4 OFF Tylenol Complete Day and night relief 60 caplets
$4 OFF Refresh Tears Lubricant eye drops 4 x 15 + 5 mL
$6 OFF Zantac Heartburn prevention and relief maximum strength 150 mg, 130 tablets
$4 OFF Dove Deep moisture body wash 3 x 710 mL
$4 OFF Cottonelle Freshcare Flushable Cleansing Cloths 504 cloths
$40 OFF FoodSaver Food vacuum sealer
Click here to view all Costco Canada instant weekly handouts fly­ers.