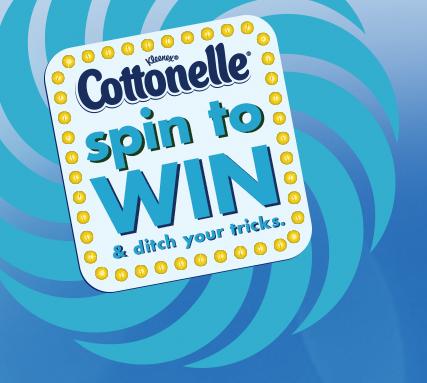 Cottonelle Canada has a new contest available to be entered, and you have a fairly high chance of winning an instant prize for participating. Enter the Cottonelle Canada Spin To Win contest, and in addition to the grand prize of a $5000 bathroom remodel, you also have the chance to win one of the $20,000 in instant win prizes available!
The breakdown of the instant win prizes is as follows:
75 x one year supply of Cottonelle
1750 x 4 packs of Cottonelle
2000 x Moist Wipes Travel Packs
150 x $25 Gift Cards
250 x $10 Gift Cards
If you have printed Cottonelle coupons in the past, then to register you will simply be able to sign in to your existing Cottonelle account. Each person will be allowed three spins per day until the close of the contest, which is July the 3rd, 2016. Unfortunately this contest does exclude Quebec.
Click here to enter the Cottonelle Canada Spin To Win contest, and good luck! Let us know if you happen to win an instant prize.