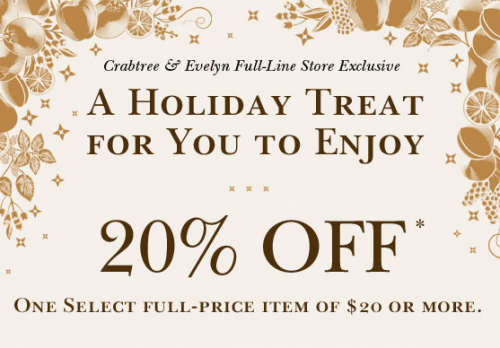 Looking for a reason to shop? How does 20% off $20 sound? From now through 'til December 23rd, 2012, you can take advantage of Crabtree & Evelyn's 20% off coupon. Simply print and redeem the following coupon at your local store when you spend $20 or more on select regular priced items.
Click below to print your Crabtree & Evelyn 20% off coupon:
• In English
• In French 
* Receive 20% off a single item of $20 or more at participating Crabtree & Evelyn full-line stores. Not available at independent specialty retailers, Crabtree & Evelyn outlet stores, or at crabtree-evelyn.com. Strict limit of one discounted item per customer. Subject to availability while supplies last. No substitutions. Cannot be combined with other discounts or offers. No adjustments to prior purchases. No cash value. Discount applied at checkout. Value of offer will not be refunded if merchandise is returned. Exclusions and restrictions apply; ask sales associate or call 1-800-272-2873 for details. Coupon must be surrendered at time of purchase. Promotion valid Dec. 14 – Dec. 23, 2012.
* Obtenez 20 % de rabais à l'achat d'un article de 20 $ ou plus dans les magasins participants Crabtree & Evelyn. Non valable en ligne, dans les boutiques spécialisées indépendantes et dans les magasins de liquidation. Limite stricte d'un article à rabais par client. L'offre est sujette à la disponibilité des articles, jusqu'à épuisement des stocks; elle ne peut être jumelée à d'autres offres ou rabais. Aucune substitution. Rabais non applicable aux achats antérieurs. Aucune valeur marchande. Rabais accordé à la caisse. Le montant du rabais est invalidé en cas de retour de la marchandise. Des exclusions et restrictions s'appliquent; détails auprès des conseillères. Le coupon doit être remis au moment de l'achat. Promotion valable du 14 décembre au 23 décembre 2012.