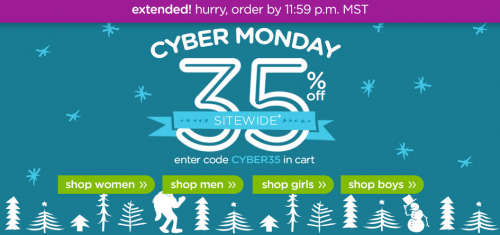 If you missed out on the hot Crocs Cyber Monday Canada 2014 sales and deals yesterday, don't fret! They have extended their Cyber Monday sale to last through the entire day today as well.
You can shop at Crocs Canada today and enjoy 35% off sitewide until 11:59 PM MST. Just enter the coupon code CYBER35 at the check out process to receive your discount on Crocs items for men, women, girls and boys.
Of course I took this coupon code and ran (barefoot ready to try on shoes haha) right to the Sale Section! The first pair of Crocs that caught my eyes were the Girls' Keeley Petal Charm Sandal for Children. They were regularly $30 and on sale for $24.99. Once you apply the Cyber Monday Canada 2014 discount code, you will end up paying only $16,24 for these adorable shoes for  your little girl. If only I could cram my feet into them…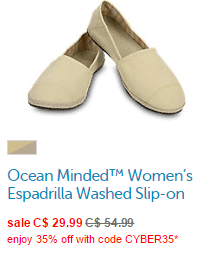 In all seriousness though, I would wear these Ocean Minded Women's Espadrilla Washed Slip On Shoes (they look like TOMS). They were regularly $54.99 and now on sale for $29.99 but again once you apply the Cyber Monday Canada 2014 discount code, you will end up paying only $19.49 which is an excellent price for a pair of shoes with quality made to last.
Crocs Canada Online still has their Cyber Monday Doorcrashers available for as low as $19.99, but unfortunately they cannot be combined with the above discount code offer. If you were looking for a good pair of Kids' Baya Heathered Lined Clogs, then now is your chance to buy them for only $19.99 instead of their regular price of $39.99.
Also, if you spend $100 or more before taxes and after discounts then you will also enjoy FREE Standard Shipping. Sweet, huh?
Click here to shop at Crocs Canada Online to enjoy the savings.