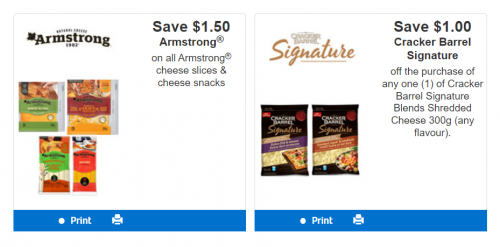 The Dairy Farmers of Ontario coupon portal may be new to some of you who have just started using coupons. Through the portal you will find several printable coupons for dairy products, and these coupons change from time to time. Here is a list of the coupons that are currently available through the Dairy Farmers coupon portal:
Save $1.50 on the purchase of Armstrong Cheese Slices and Cheese Snacks
Save $1 on the purchase of Cracker Barrel Signature Blends Shredded Cheese 300g
Save $1 on any Gay Lea Real Whipped Cream
Save $1.5o on Natrel Fine Filtered Creams and Organic Creams
Save $1 on any new Gay Lea Specialty Butters 250g
Save $1 on any Balderson Cheese (valid on 140g-500g)
Save $1.50 on Natrel Fine Filtered Organic Milk
Save $1 on Neilson Lactose Free Milk
Natrel Lactose free milk is $4.88 at Freshco Ontario this week, making it a great place to use the coupon for $1 off.
Click here to print these coupons from the Dairy Farmers of Ontario website.