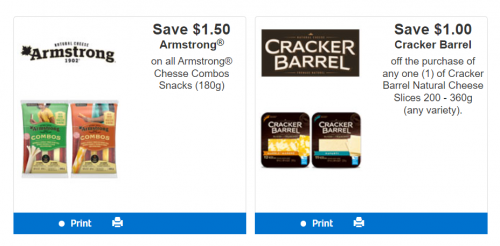 The Dairy Farmers of Ontario coupon portal has some newly added coupons. Head over to the portal and you can print the following coupons:
Save $1.50 on all Armstrong Cheese Combos Snacks (180g)
Save $1 on the purchase of any one Cracker Barrel Natural Cheese Slices 200-360g
Save $1 on Neilson 2L Lactose Free Milk
Save $1 on one Fairlife 1.5L Utrafiltered Milk
Save $1 on Balderson Cheese 140g-500g
Save $1.50 when you buy two Black Diamond Cheesestrings 8pk
The Cracker Barrel Natural Slices are a good price at Metro Ontario this week. They are advertised for $3.99, making them just $2.99 with the printable coupon. Fairlife Milk 1.5L is a great price at Fortinos this week, and it's a great time to use the coupon for $1 off. It's on sale for $2.99 this week, and you can get it for $1.99 with the coupon. There is also a deal with the Fairlife at Real Canadian Superstore Ontario, where you will get 5,000 PC Optimum points when you purchase two select Kellogg's cereals and Fairlife Ultrafiltered Milk. If you can price match Fortino's price for the milk and use Kellogg's coupons as well then you could get the three items for close to free!
Click here to print your coupons from the Dairy Farmer's of Ontario.