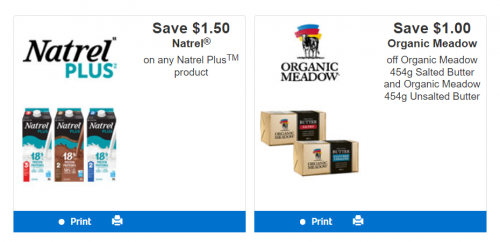 The Dairy Farmers of Ontario printable coupon portal has a couple of recent additions. Coupons for dairy products are often added here, so check back every so often to see what's available throughout the year. You should be able to print most coupons twice since they are powered by WebSaver. If you would like more prints than that for something you'd like to stock up on, (like perhaps butter for the freezer) you can try to print more from a different browser. Here are the coupons that you can print at the moment:
Save $1.50 on any Natrel Plus product
Save $1 on Organic Meadow 454g Salted Butter and Organic Meadow 454g Unsalted Butter
Save $1.50 on Tre Stelle Mascarpone and Ricotta
Save $2 on Tre Stelle Cheez Made Chicken-less Nuggets and Burger Patties
Tre Stelle Ricotta 475g is a great price at Food Basics until the end of today. If it's something you'll need over the holidays or a regular purchase you might want to pick it up with the coupon today. The ricotta is $3.97, and since Food Basics is not the best place to use printables you can price match that somewhere else that sells Tre Stelle Ricotta.
Click here for these Dairy Farmers printable coupons.