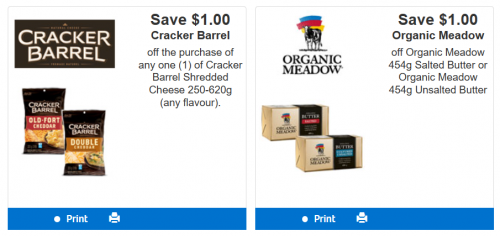 If you are just starting to get into coupons, the Dairy Farmers of Ontario portal is a great place to get printable coupons for select dairy products. These coupons print through WebSaver, and change from time to time. You can print each coupon twice per browser, and the expiry date is usually about one month from the time of printing. Here are the coupons that you can print at the the moment:
Save $1 on the purchase of any one Cracker Barrel Shredded Cheese 250-620g
Save $1 on the purchase of Organic Meadow 454g Salted Butter or Organic Meadow 454g Unsalted Butter
Save $1.50 on Tre Stelle Mascarpone and Ricotta
Save $1.50 on any Natrel Plus Product
Cracker Barrel shredded cheese is $4.98 at Food Basics this week, so just $3.98 with the printable coupon. I don't see any of the other products advertised in my local flyers, but check your flyers for sales to match the coupons with.
Click here to print your coupons from the Dairy Farmers of Ontario.