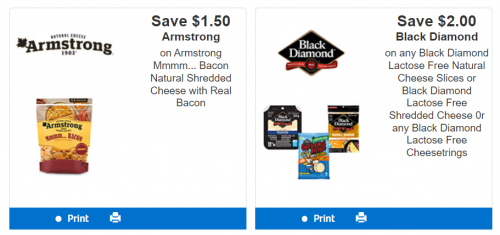 A new coupon valid on select Black Diamond lactose free cheese products is now available through the Dairy Farmers of Ontario coupon portal. Save $2 on the purchase of any Black Diamond Lactose free Natural Cheese Slices or Black Diamond Lactose Free Shredded Cheese or any Black Diamond Lactose Free Cheesestrings. This coupon is valid until April the 30th 2023, and you are able to print two per browser.
There are a few other coupons that are available through the portal, and they are not new but you are still able to print them if you haven't done so already:
Save $1.50 on Armstrong Mmmm…Bacon Natural Shredded Cheese with Real Bacon
Save $1 on the purchase of Organic Meadow Salted or Unsalted Butter 454g
Save $1.50 on the purchase of Tre Stelle Mascarpone or Ricotta Cheese
These coupons are also valid until April the 20th 2023 and may also be printed twice per browser.
Click here to get your coupons from the Dairy Farmers of Ontario coupon portal.