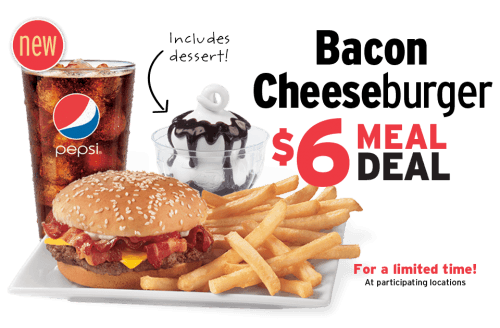 For a limited time, dine at your local Dairy Queen Canada and enjoy this Meal Deal Promotion!
No coupon is required to enjoy this deal from Dairy Queen Canada restaurants. You can purchase the Bacon Cheeseburger Meal Deal for only $6 for a limited time at participating locations.
What makes this offer sweet is that it even includes dessert! So for $6 you will receive your Bacon Cheeseburger, french fries, soft drink and ice cream! I have had their Bacon Cheeseburger before and found it mediocre, but then again what fast food restaurant can you order from and actually say that their burger is delicious? I am more a chicken burger person anyway, so try it for yourself!
No coupon is needed, just stop in and enjoy the deal!
Click here for more information on this Dairy Queen Canada $6 Meal Deal!