David's Tea is having their holiday sale online right now. Shop David's Tea's Holiday Sale  and you will find that most of their loose leaf tea, teaware, and tea gift boxes that are on sale are up to 40% off. We all love a multitasker in the kitchen, and this ingenious little pitcher is no exception. It has a stainless steel tea basket, so you can brew hot or cold tea right in the pitcher. Then swap it out for the flavour mixer, which you can use to mix in sweetener, sparkling water or other add-ins. Finally, try out the chill core, filled with a non-toxic gel that keeps your tea ice cold without diluting it. Seriously, there's nothing it can't do.This sky blue 3 in 1 pitcher is now 40% off, for just $18 (regular price $30).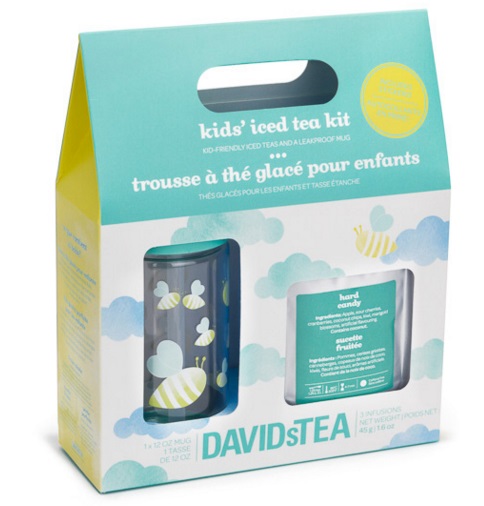 There are also some items which are 60% off like this kids iced tea kit, this kit includes  a leakproof Kids' Travel Mug, 3 bags of caffeine-free teas and a sheet of stickers, and because the kids travel mug is part of the $1 Iced Tea program, you can try David's Tea's "Tea of the Day" for just $1 all summer long.  This cute little kit is now$7.60, from the regular price of $19!
Not sure what flavour to get for your pitcher? Try these pitcher sachets, now 60% off for just $2 each! 
Strawberry Rhubarb Parfait tea contains: Apple, hibiscus, raisins, carrot, yogurt bits (milk powder, sugar, maltodextrin, modified starch, citric acid), beetroot, strawberry, rhubarb, natural and artificial flavouring
Queen of Tarts tea contains: Hibiscus, guayusa, marigold petals, stevia extract. With natural blackberry flavouring
Pom Tango tea contains: Mango (mango, sugar), black tea, pomegranate, mango, artificial flavouring.
David's Tea gives 3 FREE  tea samples on all orders, and shipping is free on orders over $50.
Click here to shop David's Tea's Holiday Sale.