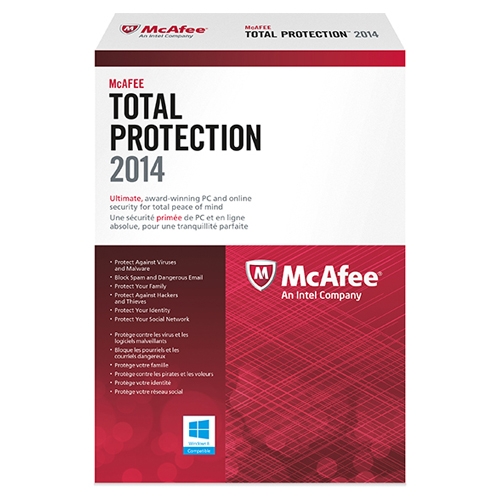 Dell.ca has McAfee Total Protection 2014 3 PC version on sale for $9.99 (save $70 off). The software also ships for free.
I know there are free alternatives and everyone has their own favourite solution, but here is another option for those interested.
Product Features
High-performance scanning engine: The next-gen scanning engine shields your PC from the latest viruses, Trojans, spyware, rootkits, and other threats without sacrificing performance or battery life.
Safe searching and shopping: Colour-coded icons appear next to every search result and social networking site, so you'll instantly know if the website you're about to visit is safe.
Digital data message: Get information about the location of blocked IP addresses and the reasons why a connection is unsafe.
User-friendly home screen: The upgraded home screen is designed to work equally well with a touch-friendly device as well as a track pad or mouse, so you can effectively navigate to common security tasks.
Security reports: The redesigned security report delivers necessary information in a visually interesting way and includes important images and links so you can better understand what's going on in the world of internet security.
Vulnerability scanner You could be vulnerable to threats if your computer is out of date, so the new vulnerability scanner checks your PC for missing updates and offers solutions to help keep you safe.
Protection from malicious ads and popups: McAfee automatically blocks suspected malicious ads to keep you protected, since even trusted websites can display risky ads.
Block spam and unwanted email: Spam emails are annoying and potentially dangerous, which is why McAfee filters out the emails you don't want to keep your inbox safe. The antispam engine also ensures the right emails get into your inbox.
Keep your family safe: Parental controls let you block inappropriate websites with age-based rules and adjustable categories. The Surfing Report lets you see when your kids log in, if they try to access forbidden sites, and how long they spend online.
Encrypted storage: File Lock safeguards your important personal files in a secure digital vault, ensuring that only you have access to the files on your PC.
Wireless network protection: Unprotected WiFi is a huge security threat, so McAfee Home Network Defense protects your passwords and personal files when you share your wireless network.
Anti-phishing software: McAfee SiteAdvisor LIVE technology actively blocks phishing links to prevent access to dangerous sites and protect against identity theft.
Social network protection: Safe URL sharing lets your share content with friends safely even if your favourite social network gets hacked, and the URL shortened prevents any accidental malicious tweets.