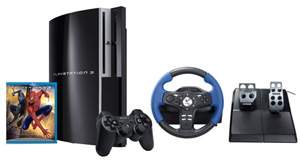 Today's DELL deals:
Sanyo DMC-2020 2GB Portable MultiMedia Player with FM Tuner $99.99 $39.99
Kingston 8GB SD High Capacity Flash Memory Card $94.99 $54.99
Sony Playstation 3 40GB Gaming Console Bundle with Logitech Driving Force EX Steering Wheel and Pedals $469.98 $399.99
Sega Rally Revo – PS3 $49.99 $19.99
Sony Cyber-shot DSC-H7 8.1 MP Digital Camera $389.00 $329.00
Shipping is free.
Nothing great today.  I guess the Sega Rally Revo for $19.99 is not a bad deal.
DELL have reminded me of why I've stopped reviewing their days of deals about a year ago; their deals are boring and useless. They need to get their act together and offer some real deals this week.