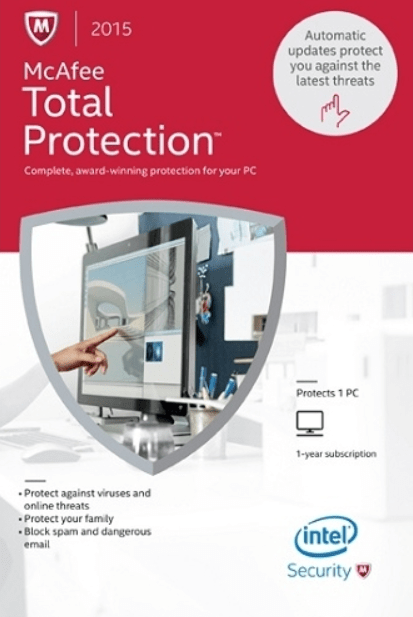 Dell Canada has a hot deal online right now that will help keep your PC protected from viruses and other threats! Head online to Dell now and you could save $65 off your purchase of McAfee Total Protection 2015! Originally sold for $79.99, you can purchase it now for just $14.99! McAfee provides security for your computer when you're online, whether you're wired or wireless, surfing the Web, shopping, banking, or more. It works to protect your computer and files from hackers, viruses, spyware, e-mail and phishing scams while protecting your information and online security. It can even ensure the safety of your photos, music, videos and important files with an automated backup feature that takes just one simple click to restore your lost files.
Other features include:
10 in 1 Protection and complete online and PC security you and your family
Stops Wireless Intruders, Identity Thieves, Spammers, and Predators
Protects your PC from viruses, hackers and spyware
Backs Up and Restores your photos, music and important files
Safeguards your identity and online experience so you can surf the Web, shop, bank, e-mail and instant message safely
Keeps your PC healthy and secure against threats
Intercepts prohibited websites, unwanted activity and offensive pictures
Blocks hackers from attacking your wireless network, and safeguards personal information and transactions
Automates file and printer sharing among trusted friends and family
Simplifies security with the new and improved McAfee SecurityCenter
Warns you about sites which send spam, install adware, or attempt online scams
Shields your PC around the clock: always on, and always updating so your protected against even the newest threats
This is a great deal from Dell, as the next lowest online price is from ITFactory.ca for $33.95. Your purchase of McAfee Total Protection 2015 gives you protection for up to 3 computers for 1 year, so that you can ensure all of your devices remain protected.
This offer is available September 9, 2015 only, or while supplies last.
Click here to purchase McAfee Total Protection 2015 from Dell Canada.