Jim Squires posted this at fjetsam 🙂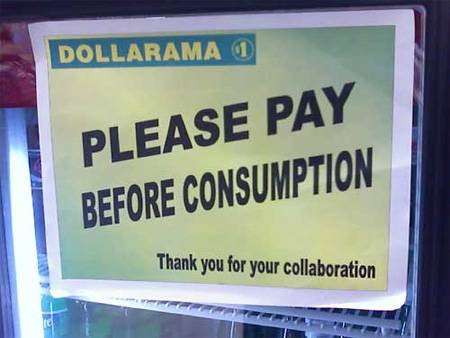 Every morning I take a little walk over to the block of stores not fifteen minutes from my house. In this little plaza is a dollar store, Dollarama. They're quite the big chain around here — anyone from Southern Ontario will know what I'm talking about. And yet despite my visiting this store on a near daily basis, every morning I'm still confounded by this sign.

What did I collaborate on, and why are they thanking me? Was it the sign? Did I make it? I don't remember making it. Maybe I was drugged and forced to work in their Taiwanese factory where everything in this store gets made. Or maybe I have a split personality and I'm the mastermind behind their devious schemes. Whatever it is, my collaboration with Dollarama remains a mystery just waiting to be exposed.

This sign wouldn't bother me so much if the store was run by ESL students, but these people are born anglophones, so there's no excuse.

So that's your little look into my local wackiness for the day. What have you got?