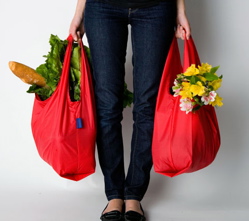 Today being Earth day I thought I'd touch upon resusable bags.
Loblaws has now gone the way of Food Basics and as of today is charging 5 cents per plastic bag.  Foodland chains are to follow suit as well from what I've heard.
I think this is a great move, promote using reusable bags and cut down on wasteful shopping bags. But I have some issues and I'm hoping that you the reader can perhaps give me some advice or insight.
1. How does one actually remember to bring reusable bags with them to the store?
I honestly forget them 90% of the time. I'll pull into the stores parking lot then remember. I shop in another town so I can't simply run home and grab them. Sometimes I give in and buy more but now I have way too many.
2. Is everyone muscle bound weight lifters?
I can't carry the reusable bags after they are packed by the  grocery packers. Seriously they pack them so heavy that I can barely carry them. It's great that they hold more product and a bigger weight load then the plastic bags but do they really have to pack 100 lbs per bag? I've even asked them to pack lighter and erm… didn't work.
3. What grocery store brand is the superior bag?
I have  the Presidents Choice large bags and the Sobeys bags with blueberries on them in large. I find the presidents choice bag flimsy and the Sobeys bags well…. I think they can fit 150 lbs in them making them impossible to shop alone without my muscle bound stud.
I Look forward to your comments and tips valued readers! Happy Earth Day!