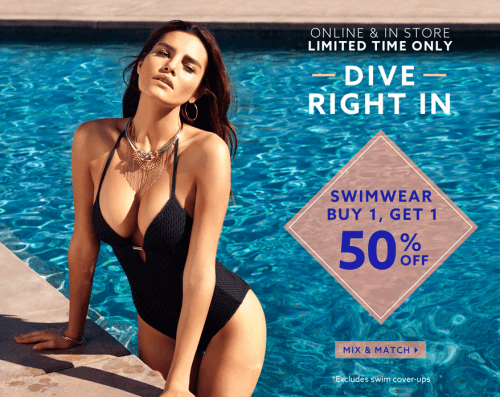 Similar to the Garage offer running this weekend, Dynamite Canada will also be providing all Canadian shoppers with free-shipping on all orders with no minimum purchase required. This offer is also being made available for Canadian shoppers, as they won't be able to take part in the special U.S. Memorial Day offers this weekend.
Dynamite doesn't usually offer free-shipping unless you spend at least $50, before that minimum you have to pay an additional $9. I was looking through the swim section and saw that they are also running a promotion right now where you can buy one bathing suit piece and get your second for 50% off, meaning you could get a full 2-piece suit for 25% off right now! For instance, this lace up bikini bottom and basic halter bikini top would normally be $54.90, but with the swim suit promo the set will only be $42.43.
Dynamite will only be offering free-shipping on all orders until May 26th at 7am EST.