This is a the time to be shopping at Dynamite Canada, for yourself that is, as they are having a 30% sale on all things glittery and embellished accessories meaning that you can pick out your New Years Eve outfit, or pick up some last minute holiday party accessories at a great discount. This discount is really sweet for those of us who know we won't be wearing a sequinned skirt or top more than once this year, but still want to look festive on nights out.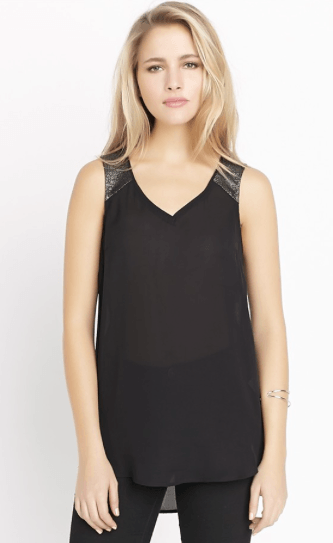 The trick to maximizing your money in deals like these is to find pieces that you could wear more than once and have enough versatility to be worn on more than one occasion; aka aren't restricted to just a New Years Eve party. The top that I found here, the sheer sleeveless tunic, is only $27.93 and offers just enough 'glitter' with the metallic detailing to be worn on a night out with a cute skirt, but is just subtle enough that it could be paired with black pants for a more casual office day-to-night outfit.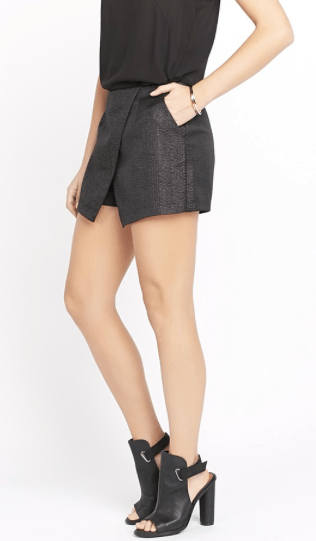 And these shiny jacquard skort shorts could be paired with a top like the sleeveless tunic and a pair of strappy heels for a night out, but could also be dressed down if worn with a pair of opaque tights and a fitted long-sleeve crew neck sweater. Since the skort is only $27.93 also, then if you got both of these items you would only pay $55.86 for an outfit which normally would've cost $79.80.
Plus, Dynamite Canada is offering free-shipping on all orders that are shipped with standard shipping, and $4.99 shipping for second day delivery orders. This is only on for a limited time though, so be sure to check before you confirm your order that it is free.
Click here to shop the 30% off sale at Dynamite Canada online.
Also, click here to get all Dynamite Canada online offers.