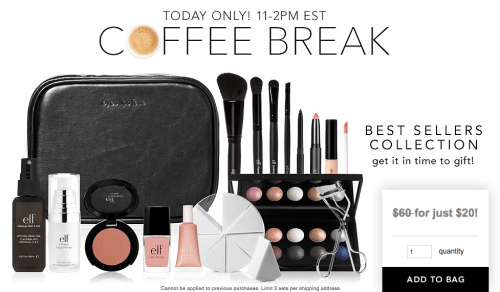 This is an awesome deal, that I am considering taking advantage of myself, as you can get the e.l.f. Cosmetics Best Sellers Collection (a value of $60) for only $20 from 11-2pm EST today. This Coffee Break online sale also requires no promo code, simply add the collection to your bag where prompted and the deduction of $40 will automatically be subtracted from your bag!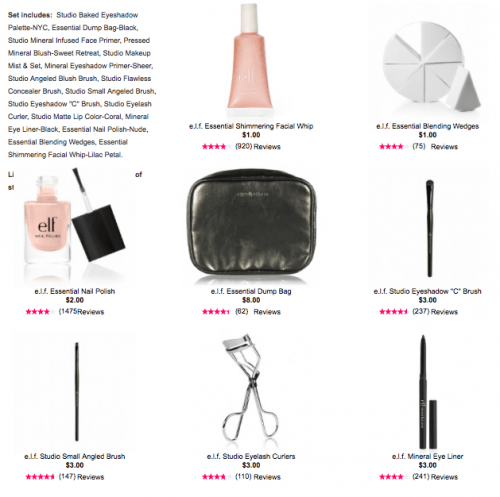 As you can see, the e.l.f. Cosmetics Best Sellers Collection will cover all your make-up bases, all the way from concealer brush to nail polish (in nude), they've got it all. The set also includes:
Essential Shimmering facial whip (in lilac petal)
an Essential dump bag
Essential blending wedges
a mineral eye liner (in black)
Mineral eyeshadow primer (in sheer)
studio matte lip colour (in coral)
studio mineral infused face primer
studio makeup mist and set
studio angled blush brush
studio flawless concealer brush
studio eyeshadow "c" brush
studio small angled brush
studio eyelash curlers
pressed mineral blush (in sweet retreat)
studio baked eyeshadow palette (NYC)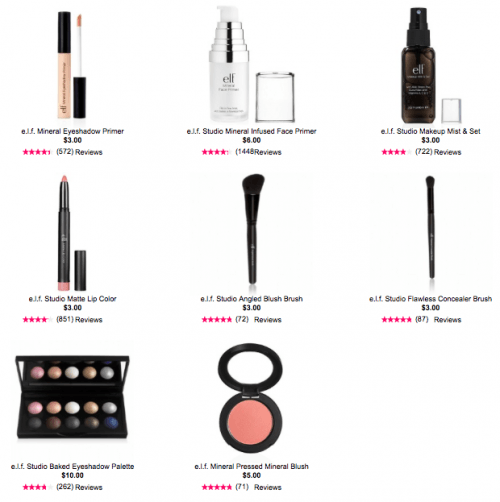 There is a limit of 3 per household, and you cannot combine this offer with any other ongoing coupons or promotions. Plus, if you add an extra $15 of e.l.f. Cosmetics to your cart, you'll receive free-shipping. So if you got two of these Best Sellers Collection (one for you and one as a gift for a friend or sister), you would qualify for free-shipping!
Click here to begin shopping the Best Sellers Collection from e.l.f. Cosmetics online.