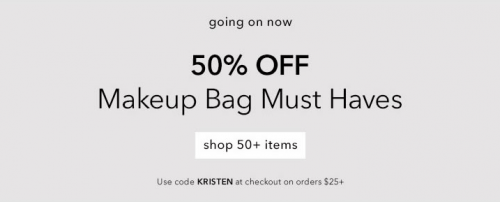 e.l.f. Cosmetics Canada is one of my favourite places to go shopping for my makeup essentials, as they provide quality products for about the same price as my morning coffee. Some makeup brands will charge you upwards of $40+ for products, like mascara, which will at most only last you 6 months, whereas at e.l.f. Cosmetics, you know you are getting exactly what you paid for.
Right now, they are having a special promotional offer where you can stock up on your makeup bag essentials for 50% off their regular price, making some of the products cost as little as $1.50! To receive this 50% discount, however, you must first spend $25 worth of product and then enter the promo code, KRISTEN, at the checkout.
I decided to shop solely within the makeup bags essentials department to meet my qualifying minimum of $25, as they would all then be discounted by 50% once I applied the promo code to my cart. As a result, I was able to get a mineral blush (regularly, $5), a HD Mattifying Cream Foundation ($6), an e.l.f. Studio Mineral Infused Face Primer ($6), an e.l.f. Studio BB Cream SPF 20 ($6) and a Mineral Infused Mascara ($3) for just $13, though it would normally have been $26.
This offer from e.l.f. Cosmetics Canada will only be available until April 13th at 11:59pm EST.
Shipping and handling at e.l.f. Cosmetics is not free, and for Canadian shoppers it will cost more than the advertised US shipping fee of $4.95 US. Canadian shoppers will have to pay $14.95 for shipping and handling, and may be subject to taxes and duties upon receiving the package.
Click here to begin shopping online at e.l.f. Cosmetics Canada.