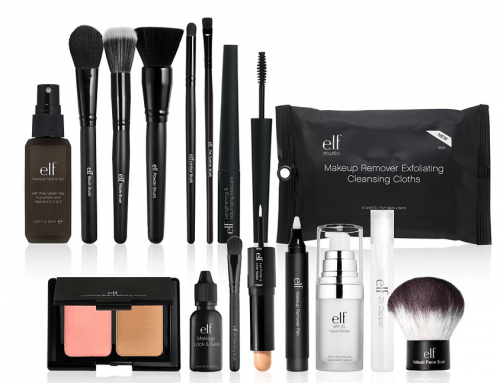 e.l.f. Cosmetics Canada is an established makeup and beauty brand, well known for offering incredibly low prices on quality products, but this current sale they're giving us is still pretty inexpensive even by their standards! The offer which I am referring to is the 50% off sale on the Studio Deluxe Favourites Set, a set typically valued at $50 is now being sold for just $25. This offer is valid until Thursday, February 12, 2015 at 11:59 pm PST.
This set is unbelievable, for more reasons than just its price, as it includes 6 different brushes, along with every kind of makeup essential you will need to both put your face on and take it off at the end of the day. The full set includes:
Studio SPF 20 Face Primer
Kabuki Face Brush
Makeup Mist & Set
Stipple Brush
Makeup Remover Cleansing Cloths
Powder Brush
Contouring Blush & Bronzing Powder
Makeup Lock & Seal
Eye Primer & Liner Sealer
Contour Brush
Blush Brush
Zit Eraser
Makeup Remover Pen
Lengthening & Volumizing Mascara
Flat Eyeliner Brush
This offer at e.l.f. Cosmetics will only be around for a limited time, and if any of the products listed are not available in the colours as shown in the package, then e.l.f. will substitute them with a product of equal value. Should you miss out on the chance to cash in on this great sale, you could also sign-up for the Beauty Bundle Subscription plan, which will deliver the newest and top-rated products to your home every 8-weeks for just $19.99. The value of each shipment will be $40, but you will only have to pay half that for each beauty bundle ($19.99).
You can have the option to be automatically billed for each 8-week shipment, or pay-as-you-go. e.l.f. also won't hold you in on any locked contracts, as you can opt out of the offer at anytime before your next order has been processed.