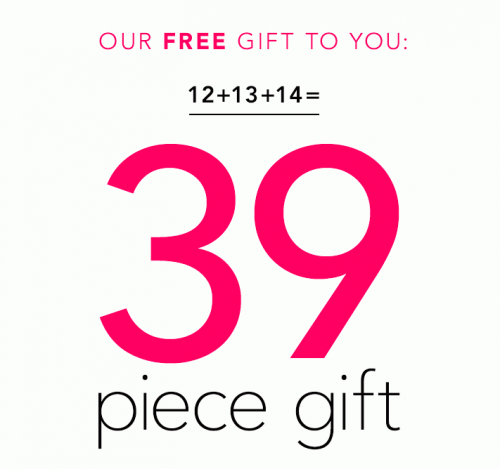 Spend over $20 at e.l.f. Cosmetics and you can receive a FREE 39-piece gift, which is valued at $21, meaning for just $20 you'd be getting $40 worth of makeup products from e.l.f. Cosmetics. To qualify for this deal is easy, just take your pick of any products from e.l.f. until your cart totals $20, then enter the promo code, GIFT39, at checkout and you'll receive your free gift.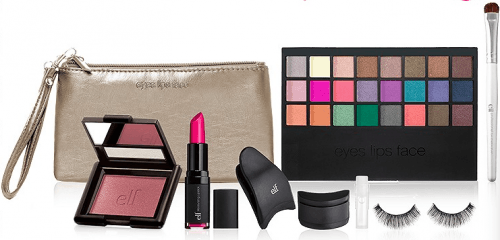 The full gift set is quite extensive, and will only be available until the end of today at 11:59pm EST, but stock is not guaranteed to last until then. If e.l.f. does run out of stock on a certain product, however, they will substitute it with a gift of equal value. If you receive the full-set before substations though, you will receive:
a 32-piece Studio Endless Eyes Pro Mini Eyeshadow Palette – in a Limited Edition-Brights
Studio Moisturizing Lipstick-in Flirty & Fabulous
Studio VIP Eyelash Kit
Essential Wristlet-in Silver
Studio Blush-in Berry Merry
and an Essential Eyeshadow Brush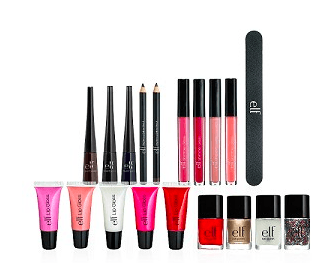 A gift or purchase you may consider getting, to meet your $20 minimum purchase, is this e.l.f. Essential Holiday 19 Piece Gift Assortment set which is exactly $20. This set is a limited edition offering from e.l.f. Cosmetics and includes:
4 Shimmer Glosses
4 Nail Polishes & 1 Nail File
5 Eyeliners
5 Lip Gloss Tubes
If you got these two sets, you would have a total of 57 makeup pieces for just $20; which works out to each piece costing only $0.35!
Click here to begin shopping the 39 free gift at e.l.f. Cosmetics Canada online.