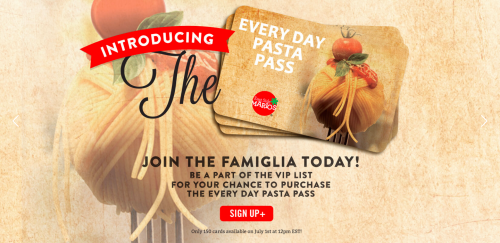 When you sign-up to become a member at East Side Mario's Canada, not only will you receive access to exclusive offers and deals all year long, but you will also be eligible to purchase a VIP Everyday Pasta Pass!
What is the Everyday Pasta Pass you may ask? Well it will allow you to enjoy any one of East Side Mario's pasta dishes (including  the Build-Your-Own pasta with one topping of your choice), plus receive All-You-Can-Eat soup or salad and a garlic home loaf. This pass will be permitted to be used once per day between July 15 and September 15, 2017 and it will only cost you $100.
There are only 150 of these passes available, and they will begin to be sold on July 1 at 12:00pm EST.
To receive the exclusive link for the VIP pass, you will have to sign-up here at East Side Mario's to be emailed the link on the day that the pass becomes available (July 1).
Click here to sign-up for emails from East Side Mario's Canada.