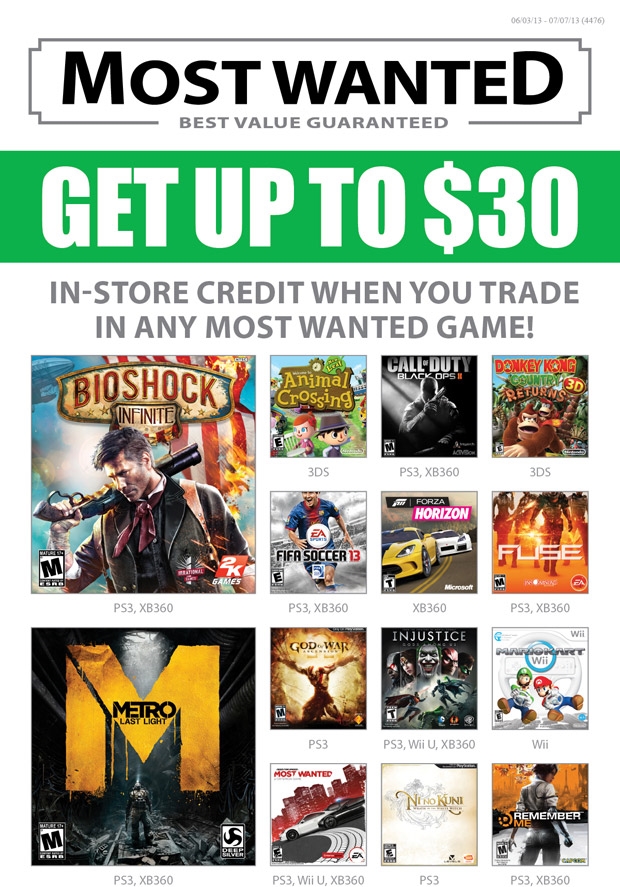 EB Games has some good trade in offers available right now with E3 and the upcoming release of the next generation of consoles.
You can play The Last of Us on the PlayStation 3 for just $1 a day. You will receive a trade in value equal to the purchase price less than $1 a day for every day you play it. I believe the game is roughly 18 hours long, so if you are the type to play a game and then not go back to it, this could be very good in terms of savings.
Trade-In Offers
POWER TRADE: Get an extra 30% in-store trade credit when you trade your old games towards the pre-order of any XBOX One or PS4 game
SAVE BIG WHEN YOU TRADE TOWARDS XBOX ONE OR PS4: Get $100 in credit when you trade 5 select games towards your pre-order of the XBOX One or PS4
GET 50% EXTRA CREDIT – Get 50% extra on your PS3/XB360 Slim consoles when you trade towards a XBOX One or PS4 console pre-order
Get an extra 30% trade credit towards select E3 titles!
TRADE 2, GET ANIMAL CROSSING: NEW LEAF AND A $25 GIFT CARD!
TRADE 2, GET $60! When you trade in 2 games worth $15 or more in trade
GET AN EXTRA 25% CREDIT when you trade towards Digital
Remember to check the individual expiration dates for these trade-in offers as they vary by offer.