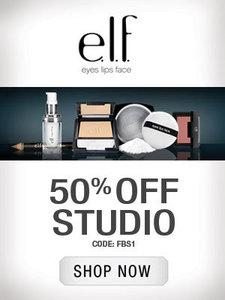 ELF (eyes lips face) offers coupons all the time, but this one is really good. It gives you 50% off their studio line products, which for me is why I like ELF in the first place. The studio line items are priced $3 – $6 and are really great, they come in sleek black packaging and the quality is surprisingly great for the price.
Some of the studio line products that I would recommend are:
Powder Brush – This is $3 and honestly since getting it recently is my favourite makeup brush out of my entire collection, which says a lot cause I have many. It is great for liquid foundation, powder, blush everything.
HD Powder – This is $6 and is a setting powder that can be used for setting your makeup. It is mostly made of silica powder. It has been compared a lot to the makeup forever powder which is much more expensive.
Mineral Face Primer – This is $6 and is used as a primer for your face, to be applied after moisturizer and before foundation to prep your face and help your foundation to adhere better and help you look flawless.
Use the code FBS1 to get 50% off Studio Line items.
It says the code expires today, but I only saw it posted today, so I am not sure about that. Also, pay with paypal and save yourself $8 in shipping charges and only pay $6.95 shipping to Canada.
To explore the Studio Line collection from ELF, click here.