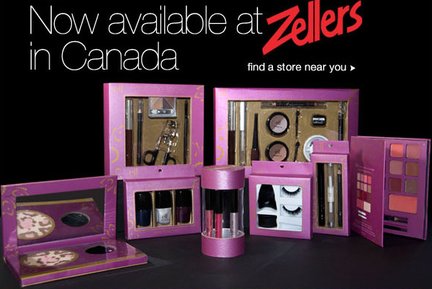 Good news for Canadians that love ELF, ELF (eyes lips face) is now being sold at a Zellers near you in Canada. That means you can avoid getting charged the pesky shipping charges that come with ordering anything from the United States.
If you aren't familiar with ELF, they are a makeup company that sell beauty products such as makeup brushes, plumping lip glaze, all over cover sticks, waterproof mascara, nail polish, brightening eye colour, eyelash curlers, mineral makeup and the list goes on. Basically everything for your Eyes Lips and Face. Their studio line is actually pretty good, I have seen a lot of gurus on youtube rave about the makeup brushes in this line and that is actually what I am interested in getting. I have their old brushes, the ones with the white handles and a lot of those are pretty bad and scratchy so I don't recommend those, however the eyeshadow brush and eye blending brush is really good and I use it frequently.
You get what you pay for, these products are mostly $1, but the studio line and the mineral line can be more, around $3 a piece. These are not comparable to MAC or other high end brands obviously, but I do find some of the products to be pretty good. I used their eyelash curler for years, and their eyeshadow compacts are really good quality, you can buy them empty or with shadows and they fit lots of brands of eyehshadow pans, including MAC. Also in their studio line, there is a bronzing powder which a lot of people on youtube have compared to NARS Laguna and Orgasm.
I am not sure what exact products they are selling at Zellers since this just started and I haven't been myself. However, judging from what I've seen at Winners I think it would be the sets (like in the picture) where you get a variety of items, hopefully the price will be reflected in these sets too.
If you do go and see the display, please post here about what you find!