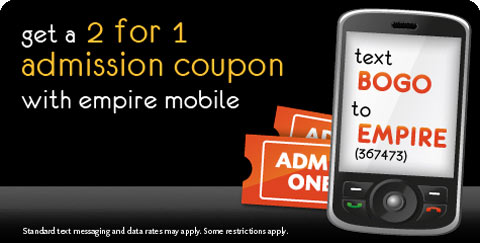 Who knew that your cell phone could actually save you money?!  If you text Empire Theatres (367473) with the word BOGO, they will text you back with a link to your unique barcode for a Buy 1 Get 1 Free admission coupon.  It's actually pretty cool because you don't print this coupon, apparently they scan or enter the barcode at the theater right off your cell phone.  This does mean that you have to have a phone with internet capabilities. 
The coupons are valid until November 12 and you are only allowed 1 per mobile device.  It says they will also contact you by text with other Empire Theatre promotions that are exclusive to mobile subscribers.
Click here for all the details on this offer.