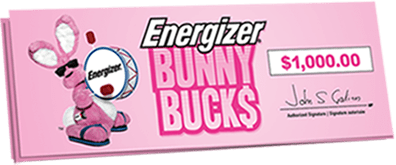 What are Bunny Bucks?
Simply put, Bunny Bucks are "cheques" that you can use to purchase items from some of your favourite retailers. It's our way of thanking you for being a loyal customer.
How much are Bunny Bucks worth?
There are three values of Bunny Bucks available – $1, $5 and $1,000.
How can I get my Bunny Bucks?
Getting Bunny Bucks is easy.
1. Purchase specially marked packages of Energizer® Advanced Lithium, Ultimate Lithium or Rechargeable batteries.
2. Look inside these specially marked packs to find a voucher indicating the value of the Bunny Bucks you are eligible to receive.
3. Find your unique PIN.
4. Register, enter your PIN, and answer a skill testing question correctly here.
5. Your Bunny Bucks will be mailed to you in 2-4 weeks.
Where can I use Bunny Bucks?
Bunny Bucks can be used at any participating retailer below.  Be sure to check back as more will be added.
What can I buy with Bunny Bucks?
Your Bunny Bucks can be used toward the purchase of high tech devices. MP3 players, cell phones, radio controlled vehicles, a new portable gaming system, anything you want!
Is there a limit to how many
Bunny Bucks I can receive?
No. With every purchase of specially marked Energizer® batteries you are eligible to receive the amount of Bunny Bucks indicated on the insert. The more you buy, the more you earn!
Thanks to Dayanara for posting this great promo!