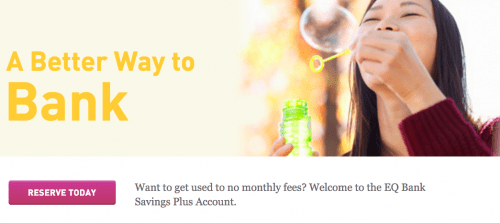 EQ Bank Canada, the digital bank that offers a 3% interest rate, has been experiencing high levels of inquiries for the past three months and has finally decided to limit the number of sign ups so that it can process current accounts. The bank was a huge hit since January 2016 and as the number of people signing up increased, users started complaining that it sometimes took weeks for their accounts to be processed.
Some of the features from EQ Bank include no minimum balance to maintain, no monthly charges, unlimited day-to-day transactions, and 5 free Interac e-Transfers. The 3% interest rate is 3x higher than that of traditional Canadian banks but we're unsure how long it will last as its subject to change.

"Over the next few weeks, we will be focused on bringing on new customer service staff, improving sign-up processes and making sure we are meeting every customer's expectations. In order to deliver on this promise, we will temporarily invite a select number of new customers to sign up each week." As EQ Bank stated on their website.
If you want to put your money into the EQ Bank, you'll have to reserve your spot. It's unknown how many people EQ Bank will select each week and how long this process will last but we suggest you reserve now before the list gets too long!
Click here for more information on EQ Bank accounts.